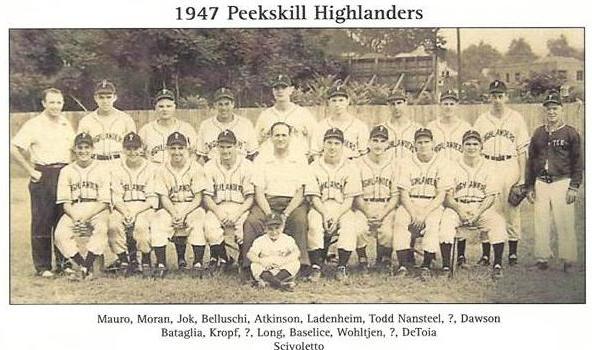 July 20-22
Peekskill, N.Y.
- Peekskill is celebrating former minor league baseball players from the Peekskill Highlanders and other teams in the North Atlantic and Colonial leagues that played our national pastime from 1946 - 1950. These men will return to talk about their experiences from their professional playing days.
Friday July 20
3:00PM - 4:30PM -
Welcome reception
at the Peekskill Museum (
Public invited
)                                                 124 Union Avenue     5:30PM - 7:30PM - Dinner for the players and their guests at the Westchester Diner  (Bypass Diner) 4300 Albany Post Road at Welcher Ave.                                      (Across the street from the old Highlanders Stadium site)
Saturday July 21
    Morning until 1:30PM - Players and families have run of the City.  Local highlights include:                                   Peekskill Trolley Tour, Water boat excursion, Visit to West Point, local                                   shopping downtown and at Beach or Cortlandt Town Center malls,                                   Contempory Art Center, Peekskill Museum Tour, Field Library, etc.                 ****
DAYTIME EVENTS ARE FREE AND OPEN TO THE PUBLIC
****     1:30PM - 1:40PM - Players and their guests gather at the Cove Restaurant                                       5 John Walsh Boulevard     1:40PM - 2:00PM - Opening Remarks -
Bob Mayer
, Baseball Historian & Collector     2:00PM - 3:00PM - Guest Speaker -
Marty Appel
- Author and former NY Yankee Public                                        Relations Director     3:10PM - 4:00PM -
Player Panel Discussion
moderated by
John Vorperian
Host of Cable                                      TV show "Beyond the Game"     4:00PM - 5:00PM - Players available to meet public and sign autographs     5:00PM - 8:00PM -
Dinner reception
for players and guests.  Dinner is
available to the
                                      Public - Reservations:
Adults $40 Children $10. ($45/$15 at door)                                       
Guest Speaker
-
Jim Bouton
- Former NY Yankee Pitcher & Author
Sunday July 22
    9:00AM - 10:30AM - Breakfast at the Inn on the Hudson (Henry's)  634 Main Street    1:00PM                       
Peekskill Tides Baseball Game
- (Lunch at Stadium)                                        Former Minor League Players will be honored at Peekskill Stadium                                                 (Louisa Street) home of the Peekskill Tides (Westchester Rockland                                       College Wood Bat League). Players will sign autographs at stadium.
For information contact Bob Mayer 914-980-2849 or springfvr9@aol.com