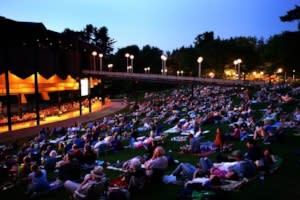 Highlights Include Tchaikovsky Spectacular with Fireworks; Yo-Yo Ma PlayIN and Performance; All-Gershwin Program with the Marcus Roberts Trio, "A Night at the Opera" and More;
"Philadelphia for Families" Programs - Cirque de la Symphonie, and Movie Nights
E.T. The Extra Terrestrial, Raiders of the Lost Ark
Saratoga Springs, N.Y. – The Philadelphia Orchestra, one of the preeminent orchestras in the world, returns to its beloved summer home at Saratoga Performing Arts Center on Wednesday, August 2 at 8 P.M. to kick off three weeks of exhilarating, diverse performances. The season, August 2 – 19, encompasses wide-ranging classical and contemporary repertoire, world renowned musicians and conductors, family-oriented multi-media offerings and an opera evening. The full schedule of SPAC's programming and events is available at spac.org.
Season Highlights
·        Russian, American and French mini-festivals celebrate the vital musical traditions of each culture.
·        Celebrated cellist YO-YO MA highlights an orchestra community PlayIN and an evening performance.
·        An ALL-GERSHWIN program features the composer's most iconic works including Rhapsody in Blue, which is given a jazzy reimagining by renowned pianist MARCUS ROBERTS and his trio.
·        A "Philadelphia for Families" series presents CIRQUE DE LA SYMPHONIE and Movie Nights – E.T. THE EXTRA TERRESTRIAL and RAIDERS OF THE LOST ARK.
·        The Orchestra's own Music Director YANNICK NÉZET-SÉGUIN leads the third week's French Festival and
A Night at the Opera.
·        Guest conductors STÉPHANE DENÈVE, MARIN ALSOP, BRAMWELL TOVEY, STEPHEN REINEKE and DAVID NEWMAN take the podium during the Orchestra's season.
·        The music of the icons of popular song, from Ella Fitzgerald to Billie Holiday, comes alive in a SOPHISTICATED LADIES pops program featuring Broadway's MONTEGO GLOVER, CAPATHIA JENKINS and N'KENGE.
·        Guest artists CONRAD TAO and STÉPHANE TÉTREAULT make their SPAC debuts and LOUIS LORTIE returns for the first time since 1992.
·        The Orchestra performs the SPAC debut of CHRIS DEVINEY'S Imaginary Day, with the composer on vibraphone and She-e Wu on marimba.
·        "A Night at the Opera" with Metropolitan Opera singers ISABEL LEONARD, SUSANNA PHILLIPS and MATTHEW POLENZANI serves as the season finale.
Opening Week – Russian Festival
WED., AUG 2
8 p.m. | The Philadelphia Orchestra: Tchaikovsky Spectacular!
               with New York City Ballet Dancers and Fireworks
Opening Night of The Philadelphia Orchestra's August residency reinvents tradition by kicking off the engagement with Tchaikovsky's famed 1812 Overture, typically performed as the season finale. Principal Guest Conductor Stéphane Denève leads a dazzling program of four works that includes selections from The Sleeping Beauty, danced by members of New York City Ballet and finishes with Tchaikovsky's 1812 Overture, accompanied by live cannons and followed by fireworks on the lawn.
6 p.m. | Pre-Show - 1812 Colonial Reenactors
Approximately 40 Colonial re-enactors create military encampments on SPAC's lawn and fire live cannons at the conclusion of the Orchestra's performance of Tchaikovsky's 1812 Overture. The reenactors dress in period costume and offer demonstrations of life during the French & Indian and Revolutionary Wars.
10 p.m. | Post-Performance: Live at the Jazz Bar
Stellar pianist and composer Chuck Lamb is the featured musician for this evening's Live at the Jazz Bar. With the Brubeck Brothers Quartet for 14 years, Lamb has performed at numerous renowned venues around the world including Jazz at Lincoln Center and the NYC, Newport, Monterey, and Montreal Jazz Festivals, among others. Guests can enjoy the music in the Hall of Springs Jazz Bar and on the Patio. The bar is open to the public; a ticket to the evening's SPAC performance is not required for entry.
THURS., AUG. 3
8 p.m. | Introducing Conrad Tao
Praised by NPR Music as a "…musician of deep intellectual and emotional means," pianist Conrad Tao will make his SPAC debut performing Rachmaninoff's virtuosic Piano Concerto No. 2 under the baton of Stéphane Denève. This multi-talented artist who has garnered numerous awards recently made news for a holding a performance in a basement crypt of the Church of the Intercession in Harlem.  This rich program also features Glinka's sparkling Overture to Ruslan and Lyudmila, and Shostakovich's Symphony No. 5, his most well-known work.
6 p.m. | Pre-Show: BlueStarry Nights @ SPAC
This evening features BlueStarry Nights @ SPAC, a gourmet pre-performance tasting event offering guests samples of craft beer and spirits and gourmet edibles, all free as part of admission to the evening's performance. Samples will be provided by vendors including Mionetto, Saratoga Courage, Wine World Wide, Albany Distilling and Davidson Brothers. A special highlight of the pre-show is the second installment of the Home Rangers Cooking Competition featuring amateur home chefs engaged in a culinary battle. The winner of this round will advance to the semi-final on August 17 and the chance to challenge celebrity judge Suvir Saran at the Saratoga Wine and Food Festival on Sept. 9 and win a $3,600 pro-style BlueStar range.
FRI., AUG 4
8 p.m. | Cirque de la Symphonie
The grand finale of the Russian Festival will be a spectacular bravura of physical exertion—a Russian-themed Cirque de la Symphonie performance. Russian musical history, ranging from the grandiose emotional expression of the "Big Five" Russian romantics in St. Petersburg to the 20th-century masters Stravinsky and Shostakovich, will be embodied in the choreography of exceptional aerial flyers, acrobats, contortionists, dancers, jugglers, balancers, and strongmen from around the world.
6 p.m. | Pre-Show: CDPHP Family Night
With a mix of activities that are both enjoyable and educational, CDPHP Family Nights are a great start to an evening at the orchestra. Taking place on the lawn, these events feature FREE Stewart's ice cream, Albany Medical Center Workshops on the Lawn, an Instrument Petting Zoo, balloon animals and photo booths. New this year is the Young Performers Circle offering drumming lessons, dance classes more.
SAT., AUG 5
8 p.m. | E.T. The Extra-Terrestrial 
Steven Spielberg's cinematic masterpiece E.T. The Extra--Terrestrial will be shown on four HD screens and accompanied by a live performance of John Williams's Academy Award®-winning score. One of the brightest stars in motion picture history, E.T. The Extra-Terrestrial follows the moving story of a lost alien who befriends a 10-year-old boy.   E.T. The Extra-Terrestrial is a trademark and copyright of Universal Studios. Licensed by Universal Studios Licensing LLC. All Rights Reserved.
10 p.m. | Post-Performance: Live at the Jazz Bar
The richness and exuberance of traditional Cuban music comes alive in the talented hands of Alta Havana members, Gerardo Contino (vocals), Itai Kriss (flute), Keisel Jimenez (percussion) and Jorge Gomez (keyboard/piano). All highly acclaimed musicians who have performed independently and with other ensembles on major festival stages around the world, the collaboration of their unique styles is a fresh, exciting take on Cuban music. Guests can enjoy Alta Havana in the Hall of Springs Jazz Bar and on the Patio. The bar is open to the public; a ticket to the evening's SPAC performance is not required for entry.