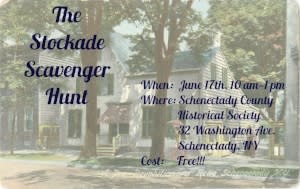 Schenectady, N.Y. – Whether you're a lifelong resident of Schenectady, or just looking to explore, The Second Stockade Scavenger Hunt, taking place Saturday, June 17, is the perfect opportunity to find out more about the 300+ years of history in Schenectady's Stockade Historic District. The Stockade neighborhood is jam packed with history and participants will follow clues to learn more about the founding of Schenectady, and other topics. No worries if you joined us last year, we will have all new clues for this year's scavenger hunt.
 
Participants will meet up at the Schenectady County Historical Society at 32 Washington Ave. to receive their clues and report back for a prize when they are finished. All you will need to bring is a camera to document your journey.
Registration for this event is encouraged. To register, contact Mike Maloney at 518-374-0263 or librarian@schenectadyhistorical.org

Admission to this program is free!
Learn more!
###