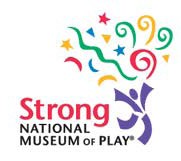 Rochester, N.Y.
-The Strong has received a grant of $150,000 (the maximum amount awarded) from the Institute of Museum and Library Services through the Museums for America Program. The Strong is one of 152 museums across the nation to be awarded grants out of 470 that applied for funding.   The IMLS funding will assist with the ongoing transformation of The Strong's second floor into an artifact-dense, interactive, interpretive exhibit titled
America at Play.
Consisting of five thematic zones (electronic games; games and puzzles; dolls and dollhouses; construction toys; and miniature worlds),
America at Play
represents the first-ever historical overview of three centuries of play in America. Rich in objects from The Strong's world-renowned collections, and complemented by hands-on activities,
America at Play
will tell the story of the way that play has changed, stayed the same, and affects us all-adults and children alike. Funding will be applied toward the fabrication and installation of a 4,200-square-foot thematic exhibit on games and puzzles titled
Game Time!
The museum's game and puzzle collection is the largest diversified collection of such artifacts in a public institution in the United States, showcasing not only how play and game design have changed over time, but also how these changes have reflected and influenced American culture in general. Museum guests will become pieces of a giant game board as they move through the exhibit to learn about the history of board games, card games, puzzles, and more public amusements such as electromechanical coin-operated games, pinball machines, and products for home or public game rooms such as foosball and hockey. The first
America at Play
zone is
eGameRevolution
, a 5,000-square-foot interactive exhibit that opened to the public November 2010. Guests literally play their way through the history of video games-from the dawn of Pong to today's Xbox 360-and learn how video games have changed the way we play, learn, and relate to each other.
Game Time!-
the second
America at Play
zone-is scheduled to open at the National Museum of Play at The Strong in April 2013. The Institute of Museum and Library Services is the primary source of federal support for the nation's 123,000 libraries and 17,500 museums. Through grant making, policy development, and research, IMLS helps communities and individuals thrive through broad public access to knowledge, cultural heritage, and lifelong learning.
###
Contact: Susan Trien, 585-410-6359,
strien@thestrong.org
Shane Rhinewald, 585-410-6365,
srhinewald@thestrong.org