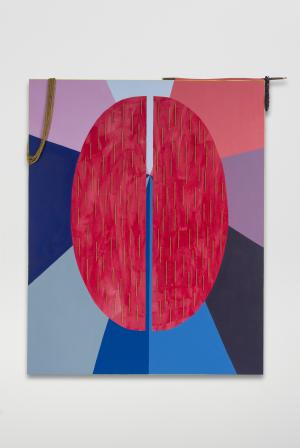 Acclaimed artist known for experiments in color, composition, and non-conformity
July 10, 2021 — January 2, 2022
Saratoga Springs, N.Y. (June 24, 2021) — The Frances Young Tang Teaching Museum and Art Gallery at Skidmore College announces that the next artist in its influential Opener series will be Sarah Cain. The exhibition Opener 33: Sarah Cain—Enter the Center opens July 10 and will be on view through January 2, 2022.
Los Angeles–based artist Cain explores and expands upon traditional ideas of painting, often modifying canvases by cutting and braiding, painting on all sides, and installing the canvas with the back facing the viewer. She paints on other surfaces, too, including interior and exterior walls, floors, and dollar bills, and often includes found objects such as crystals, feathers, beads, and other items with a personal connection. Her process involves many layers of altering a composition—a cycle of creation and destruction that, in part, revolves around self-discovery. Cain describes herself as a feminist painter, using elements traditionally seen as feminine as an act of non-conformity and an alternative to the traditional hierarchies of painting.
Opener 33: Sarah Cain — Enter the Center features more than a dozen major paintings from 2012 through 2020 and an expansive site-specific installation in the Tang that includes a wall-to-wall floor painting and painted furniture.
"Sarah Cain's work reflects a hard-earned joy that comes from rigorous experimentation and her own critical self-examination," said Ian Berry, Dayton Director and exhibition curator. "It is a pleasure to welcome Sarah back to the region, to collaborate with her on her new work, and to introduce her paintings to new audiences."
In recent years, Cain has garnered wide acclaim for site-specific installations such as We Will Walk Right Up To The Sun, 2019, a permanent installation of a 150-foot-long series of stained-glass windows at the San Francisco International Airport; i touched a cactus flower, 2019, a painted interior, including walls, floors, and furniture, in the Paramount Studios Backlot; and Mountain Song, 2017–2018, a large-scale, site-responsive installation at Elk Camp on Snowmass Mountain in Aspen, Colorado. In addition to the exhibition at the Tang, Cain has recent major projects at The Momentary in Bentonville, Arkansas; the National Gallery of Art in Washington, D.C.; and Broadway Inc. in New York.
Two new books will accompany the exhibition. One is an artist book based on Cain's music book, a project Cain began in 2008 in which she paints on pages of sheet music from old music books. The artist edition of the music book is designed by Los Angeles–based artist and designer Conny Purtill and published by the Tang Teaching Museum in association with X Artists' Books. The second publication will be a survey of Cain's work to date, with a focus on the last decade, including her major site-specific installations at venues across the country. The book, edited by Ian Berry, will include new writing by Andy Campbell and Lauren Haynes, an extensive interview between Cain and Berry, and the 1968 poem "Failures in Infinitives" by Bernadette Mayer, a friend and colleague the artist. The book Opener 33: Sarah Cain—Enter the Center will be co-published by the Tang and DelMonico Books/D.A.P.
Opener 33: Sarah Cain—Enter the Center is curated by Dayton Director Ian Berry in collaboration with the artist. The Opener series surveys the work of emerging and mid-career artists in what is, for many, their first solo museum exhibition. Past Openers have surveyed the work of Njideka Akunyili Crosby, Arturo Herrera, Carrie Moyer, Amy Sillman, Los Carpinteros, and Jeff Sonhouse.
Sarah Cain: Enter the Center is made possible with generous support from Iris Zurawin Marden '71.  The Opener Series is supported by the New York State Council on the Arts, Ann Schapps Schaffer '62 and Mel Schaffer, Beverly Beatson Grossman '58, and Friends of the Tang.
The opening of the exhibition marks the Tang's official reopening to the public since closing in March 2020. The Museum's summer hours are noon to 5 p.m. Thursday through Sunday through August 29.  Fall hours will be announced in the coming weeks. For more information, please call the Visitor Services Desk at 518-580-8080 or visit http://tang.skidmore.edu.
About the Artist 
Sarah Cain was born in Albany, New York, in 1979 and grew up in nearby Kinderhook. She earned her MFA at the University of California Berkeley and her BFA from the San Francisco Art Institute. Recent solo exhibitions include We Will Walk Right Up to The Sun at the San Francisco International Airport; Greenhouse at Vielmetter Los Angeles; and Sarah Cain: In Nature at The Momentary, Bentonville, AR. In 2014, she was included in I was a double at the Tang Teaching Museum. Cain currently lives and works in Los Angeles.
About the Tang Teaching Museum
The Tang Teaching Museum at Skidmore College is a pioneer of interdisciplinary exploration and learning. A cultural anchor of New York's Capital Region, the Tang's approach has become a model for university art museums across the country—with exhibition programs that bring together visual and performing arts with interdisciplinary ideas from history, economics, biology, dance, and physics to name just a few. The Tang has one of the most rigorous faculty-engagement initiatives in the nation, and a robust publication and touring exhibition program that extends the museum's reach far beyond its walls. The Tang Teaching Museum's award-winning building, designed by architect Antoine Predock, serves as a visual metaphor for the convergence of art and ideas. http://tang.skidmore.edu.
Media contact
Michael Janairo
Tang Teaching Museum
at Skidmore College
518-580-5542
Caption for image: Sarah Cain, enter the center, 2016, acrylic, chains, beads, and stick on canvas, 24 x 21 1/4 inches, collection of Iris Zurawin Marden