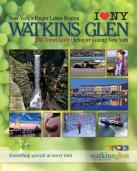 Watkins Glen, N.Y.
-- The official Watkins Glen and Schuyler County Travel Guide produced annually by the Watkins Glen Area Chamber of Commerce is here! We're excited to announce the 2013 Travel Guide is bright, fun and informative with many great new features! First, we would like to emphasize the user-friendliness and functionality of this new guide. Once again, the guide includes an illustrated, pull-out map that incorporates state, regional, county and village locations and features colorful key attractions to the area as well. However, the map has been updated and includes a grid system to make locating businesses and attractions much easier. Also new this year, all four seasons are featured with attractions and a list of things-to-do highlighted for each season. Visitors will be able to view a list of events and available attractions based on the season. We included this feature to show that Schuyler County is open for tourism all year round. We distinctly chose a bright green cover to ensure that the guide would stand out from the masses as it is distributed to travel shows and information centers. The grapes on the cover are also representative of the wine industry that has helped to shape the area, of course. This guide is also very visual. It has close to three times more photos than last year's guide. The high-end photography, featured in the travel guide was provided by the following: AC Jacobs Photography Atwater Estate Vineyards Elizabeth Fraboni Finger Lakes Distilling Finger Lakes Underwater Preservation Association    (FLUPA) Finger Lakes Wine Country Rentals Glen Motor Inn Grapehound Wine Tour Hidden Valley 4-H Idlwilde Inn JBK Bridal & Prom Julina Marie & 1 Oak Photography Lake Valley Legends Lakewood Vineyards Nikita Hairston, Watkins Glen Area Chamber of    Commerce Painted Bar Stables Red Newt Cellars Winery & Bistro Schooner Excursions Seneca Sailing Adventures Wagner Brewing Company Watkins Glen Harbor Hotel Watkins Glen International The county guide displays themed sections that are reflected in the Chamber's logo such as: Recreation & Attraction; Arts, Culture & Experience; Hospitality; and Lakes, Creeks and Waterfalls. Each year, the guide is created and produced by the Chamber; Schuyler County's designated Tourism Promotion Agent (TPA) of the Finger Lakes region. The guide is requested and sent worldwide. It is accessible at the Chamber's Visitor Center and will be available to download in an interactive format on the Chamber's website,
http://www.watkinsglenchamber.com/
. 130,000 guides were printed and will be distributed in various locations within a five-hour drive of Watkins Glen over the course of the year. Chakra Communications, Inc., a graphic and data communications company headquartered in Lancaster, NY, with offices Endicott, NY and Mubai, India designed the 2013 Travel Guide. Vanguard Printing of Ithaca, NY printed the guide. Both businesses are members of the Chamber. If you would like to obtain copies, please contact Victoria Young, Tourism Information Coordinator at 607-535-4300 or by emailing
victoria@watkinsglenchamber.com
.
###