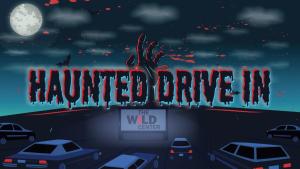 Immersive experience brings scares from the safety of your car
Tupper Lake, N.Y. - The Wild Center has reimagined Halloween with a new, haunted drive-in. The first of its kind from The Wild Center, this immersive experience brings scares to you in the safety of your parked vehicle. On Oct. 24, 30 and 31, guests will watch fan-favorite horror movies on the big screen while surrounded by real life scares. Parking begins at 6:00 p.m. and movies will play at 7:00 p.m. 
Family Friendly Night for the Haunted Drive-in will take place on Saturday, Oct. 24 with the showing of Casper. For this event, carloads are $20 for non-members and $15 for members. During Halloween weekend, admission is $25 per carload for non-members and $20 per carload for members. All spots must be reserved in advance online at www.wildcenter.org/haunteddrivein/.
Dates and movies are as follows:
Composting toilets will be available for attendee use and are located at both ends of The Wild Center's parking lot. Per New York State regulations, masks and physical distancing are required for all guests when outside of their vehicle. In addition to their theatrical masks, all staff will be wearing protective face coverings.
For more information on the Haunted Drive-in and to reserve tickets, visit: https://www.wildcenter.org/haunteddrivein/ .
About The Wild Center
The Wild Center invites visitors to discover the story of the Adirondacks, and to explore new ways that people and nature can thrive together. Located in Tupper Lake, NY the Center uses science-based experiences, exhibits and program to open new ways to look into the relationship that people have with nature and to promote environmental best practices. he Wild Center's reimagined experience utilizes Wild Walk and its largely outdoor 115-acre campus. The Center is currently open Fridays, Saturdays and Sundays from 10 a.m. to 5 p.m.
Website | Facebook | Twitter | Instagram
Media Contact:
Colleen Onuffer
Break the Ice Media
colleen@breaktheicemedia.com
O: (585) 394-0787 x2
C: 716-864-1263
The Wild Center Contact:
Nick Gunn
Marketing Manager, The Wild Center
ngunn@wildcenter.org
O: (518) 359-7800, ext. 121
C: (315) 286-4045