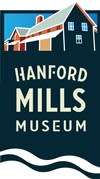 Fall Festival on October 14 caps off season at Hanford Mills Museum
Fall foliage will be at its peak in Delaware County
East Meredith, N.Y. – Time to put on your red-checkered flannel shirt! The perennial fall favorite, the Woodsmen's Festival at Hanford Mills Museum, will be held on Saturday, October 14. The Woodsmen's Club of the SUNY College of Agriculture and Technology at Cobleskill, which competes nationally, will be demonstrating their lumberjack skills, including overhand and underhand chop, ax throwing, and cross cut sawing.
"Kids and adults enjoy seeing the speed, power and precision of the Woodsmen's Club," says Executive Director Liz Callahan. "It's also great to see the camaraderie of the team."
The Woodsmen's Festival, which runs from 10 am to 4 pm, also features music, horse-drawn wagon rides, kids' activities, and exhibits by woodworkers, forestry organizations, and local businesses and organizations. Visitors also can see the historic water-powered sawmill, gristmill and woodworking shop operating just as it did a century ago.  "For generations, people looked to Hanford Mills for the lumber they needed for their homes, farms and businesses," says Callahan. "The Woodsmen's Festival celebrates this shared history and also highlights the woodworkers, craftspeople, and foresters of today."
Singer John "Catfish" Meyer will perform from 10 am to noon, and Bourbon & Branch will perform from noon to 3:30 pm.  Exhibitors include:  the SUNY Cobleskill Woodsmen's Club, GTO Woodworking, Cooper Bob Allers, Don Vanhart (treadle lathe), Bernd Krause (woodworker), Seth Finch and his team of Percherons giving wagon rides (included with admission), Pure Catskills, My Woodlot, Catskill Regional Invasive Species Partnership (CRISP), Promisedland Farms (Swedish style hand-knit mittens and hats), Tickled Pink BBQ, Awestruck Ciders, and the Charlotte Valley Presbyterian Church (pie and chili sales).
Hanford Mills Museum closes for the season on October 15. "It has been a really wonderful season, with the opening of the Learning Lab full of activities for young children, and lots of great feedback from visitors," says Callahan. "Several Trip Advisor reviews call Hanford Mills a 'hidden gem,' we encourage everyone to come see all the Museum has to offer." Hanford Mills will be open on February 3, 2018 for the Ice Harvest Festival, and then begin its 45th season on May 16, 2018.
About Hanford Mills Museum
Hanford Mills Museum is open 10 am – 5 pm, Wednesdays through Sundays and on holiday Mondays (Columbus Day) through October 15. Hanford Mills Museum is located at 51 County Hwy. 12, at the intersection of Delaware County Routes 10 and 12, in East Meredith, NY, 10 miles from Oneonta and 15 miles from Delhi. Children 12 and under are admitted free, as are Museum members.  Admission for adults and teens (13-64) is $9; and for senior citizens and AAA members is  $7. See website for additional discounts.
As one of only a handful of operating water-powered mills, Hanford Mills Museum has earned a place on both the National and New York State Registers of Historic Places.  The mission of Hanford Mills Museum is to inspire audiences of all ages to explore connections among energy, technology, natural resources and entrepreneurship in rural communities with a focus on sustainable choices.
For more information, visit www.hanfordmills.org or call 607.278.5744.
###
Calendar Listing
October 14, 10 am – 4 pm
The Woodsmen's Festival at Hanford Mills Museum
51 County Hwy 12, East Meredith, NY
607/278-5744
See the lumberjack skills of the SUNY Cobleskill Woodsmen's Club, water-power demonstrations in the historic sawmill, gristmill and woodworking shop, and exhibits by woodworkers and forestry organizations and local farmers. Music by John Meyer and Bourbon & Branch. Horse-drawn wagon rides, BBQ, chili and pie sales. Festival included with regular admission. Children 12 and under receive free admission. Adults,$ 9; Seniors and AAA members, $7.