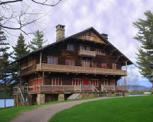 Raquette Lake, N.Y.
- You love theater, your spouse loves history, you both love adventure. What to do?   The Adirondack Summer Playhouse wraps its season Aug. 23-25 with a Grand Finale Weekend, featuring four theatrical performances and a two-night stay at historic Great Camp Sagamore in Raquette Lake, N.Y.   Enjoy productions of "Cabaret," "Macbeth," "Songs for a New World" and "Shrek," along with hiking, swimming and canoeing-all at the former wilderness estate of the Vanderbilts.   Packages, which include lodging, all meals and all performances, are $339 for adults; $175 for children under 18.   For more information, go to
http://www.adksummerplayhouse.org/
or
http://www.greatcampsagamore.org/
, or call 315-354-5311, ext. 21.
###
Contact
: Sandi Mulconry Group M Communications 315-685-9363
/wp-admin/sandi@groupmcom.com