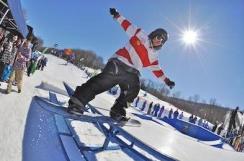 January is Learn to Ski and Snowboard Month
Albany, N.Y.
- Have you thought about learning how to ski or snowboard? Do you already participate and want to improve? Whether you're young or simply young-at-heart, beginner or experienced, January is the month for you. It's
Learn to Ski and Snowboard Month
, with free or inexpensive lesson packages offered at ski and snowboard resorts across New York State. Scott Brandi, President of Ski Areas of New York, Inc., said, "Learn to ski and snowboard month is a great opportunity to get out and learn the lifelong sport of skiing and riding with a discounted lesson package including lifts, lesson and rentals. So, don't hibernate this winter; come out and play, and we'll see you on the slopes!" Through Jan. 31, take advantage of these affordable and convenient learning programs taught by the pros. Visit
http://www.skiandsnowboard.net/
for the 26 participating New York ski areas and coupons for 20 percent off Learn to Ski or Learn to Snowboard programs. There is no limit to the number of coupons redeemed and lessons taken. Also this winter, fourth graders are once again downhill skiing and snowboarding free in New York State. With the
4th Grade Ski & Ride Passport
program any child in the 4th grade - regardless of location - can get three free passes for skiing or snowboarding, when accompanied by a paying adult, at any of 30 participating New York ski areas. There is also a learn to ski and snowboard component. The only cost is a $19 registration fee. For more information, visit
http://www.44free.com/
. For ski conditions, weather updates, additional lift and lodging deals go to
http://www.skiandrideny.com/
.
Learn to Ski and Snowboard Month
is an industry initiative organized by numerous state and regional ski associations, the leading snow sports media outlets, snow sports rep associations, the Professional Ski Instructors of America, the American Association of Snowboard Instructors, SnowSports Industries America, the National Ski Patrol, and the National Ski Areas Association.
###