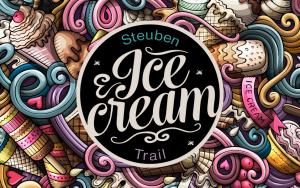 Steuben County, NY – Sunday, July 18th marked National Ice Cream Day. Don't worry if you didn't get a chance to celebrate, you still have time to make the most of the exciting and delicious new Steuben Ice Cream Trail featuring the top 10 local favorite ice cream shops in Steuben County. 
Ice cream season is here! That time of year folks line up for scoops of handcrafted creamy goodness in a homemade waffle cone. Or soft serve with dip top and sprinkles. Want a candy bar mixed in? Two flavors twisted together? No problem. There's so much variety, you could get a new flavor each day and still not get through them all before the end of summer. Thanks to over two-thousand local residents nominating and voting for their favorites, we have identified the "Steuben Ice Cream Trail" in Steuben County. 
Steuben Ice Cream Trail
Beartown Peaches 'n Cream (Painted Post)
Gauss' Sweet Shoppe (Campbell)
The Udder Place (Hornell)
Dippity Do Dahs (Corning)
Emmie's Ice Cream (Bath)
Twin Kiss Ice Cream (Bath) 
The Pit Stop (Hornell) 
The Sweet Spot (Painted Post)
The Scoop Ice Cream (Hornell)
Crooked Lakes Ice Cream Company (Hammondsport)
The total number of votes was 2,259 with over 20% of those for Peaches 'n Cream. In all, 31 ice cream shops were nominated. It seems that everyone has a favorite ice cream shop and that most towns have at least one (with a few communities having several options).
Whether you're looking for a little extra treat on top of some family time or you're simply an ice cream lover looking for a selection of tasty options, the Steuben Ice Cream Trail shops offer a variety of types, flavors, and brands of ice cream from local homemade specialties to regional and national brands. 
Now's your chance to get out there and sample from each of the stops on the trail. 
For more information about the specific Steuben Ice Cream Trail shops, visit https://www.corningfingerlakes.com/things-to-do/itineraries-and-trails/steuben-ice-cream-trail/. You can also find the trail on the Explore Steuben app where you can access nearby stops right from your phone.  
###
Corning and the Southern Finger Lakes (aka Steuben County Conference & Visitors Bureau) was established in 1994. As Steuben County's official tourism marketing agency, our mission is to stimulate the tourism economy through authentic storytelling, supporting & developing destination amenities, and connecting visitors to the Southern Finger Lakes. Steuben County is home to the World's Most Beautiful Wine Region (Budget Travel), America's Coolest Small Town: Hammondsport (Budget Travel), and one of the Most Fun Small Towns: Corning (Rand McNally). It has also been recognized as a top value destination (ShermansTravel). 
Contact:            Dave DeGolyer, Communications Manager
                          Corning and the Southern Finger Lakes 
                          1 West Market Street, Suite 201
                          (607) 426-5371
                         CorningFingerLakes.com