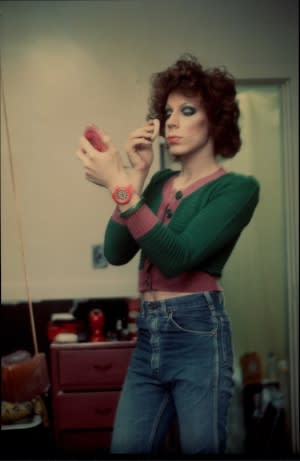 Saratoga Springs, N.Y. — The Frances Young Tang Teaching Museum and Art Gallery at Skidmore College announces the opening of a new exhibition, They're, Their, There, which explores visual representations of queerness. The exhibition runs from Saturday, July 28, through Sunday September 30.
The works in the exhibition illustrate some of the various expression through which queer individuals combat stigmatization and assert empowered identities. This exhibition does not claim to assert a comprehensive grasp of queer identity, but to present artwork and ephemera that explore a range of individual experiences, including the first issue of VELOUR: The Drag Magazine, co-founded by Brooklyn drag legend Sasha Velour and her partner Johnny Velour; Aysen Gerlach's Just Lookin' zine series; and photographer Jess T. Dugan's To Survive on This Shore: Photographs and Interviews with Transgender and Gender Nonconforming Older Adults, a collaboration with social worker Vanessa Fabbre.
Exhibition curator Rachel Rosenfeld, Skidmore College Class of 2018 and the 2017-18 Eleanor Linder Winter Endowed Intern, will lead a tour of the exhibition on Tuesday, July 31, at noon. The tour is free and open to the public.
This exhibition is the capstone project for Rosenfeld and is supported by the Friends of the Tang and the Carter-Rodriguez Fund for Student-Curated Programs.
For more information, call 518-580-8080 or visit http://tang.skidmore.edu.
ALSO ON VIEW
Elevator Music 37: David Mancuso — The Loft
July 28 through September 30, 2018
Elevator Music 37: David Mancuso — The Loft invites visitors to experience the soundscape of the Loft, the legendary New York City dance party hosted by David Mancuso (1944–2016) that set the stage for the underground dance parties and gay nightlife of the '70s and '80s. The Loft parties were a weekly event held in Mancuso's home in NoHo from 1970 through 1975. During a period in which LGBTQ+ people were shunned and criminalized for displaying homosexual behaviors in public, the Loft offered a space for people to express themselves without fear of judgment or arrest. The music Mancuso played — a mix of cross-genre beats ranging from soul and R&B to Latin jazz and Afrofunk — was released as a two-disc compilation set in 1999 through the British independent record label Nuphonic. One CD features up-tempo songs played earlier in the night, such as an extended dance version of "Ain't No Stopping Us Now" by Risco Connection. The other disc features atmospheric rhythms for a late-night set, including Manu Dibango's hit, "Soul Makossa." The combined two-hour playlist reveals the ever-evolving sound of Mancuso's parties — especially designed to take the listener from one mood to the next, but always dancing.
Elevator Music 37: David Mancuso — The Loft is organized by Curatorial Assistant Molly Channon and is supported by the Friends of the Tang.
Dona Nelson: Stand Alone Paintings
Through August 12
Artworks from the last four decades demonstrate the breadth and continuity of Nelson's influential painting career. Originally from Grand Island, Nebraska, Nelson received her B.F.A. from Ohio State University in 1968. While still an undergraduate at Ohio State, Nelson moved to New York City to participate in the newly-formed Whitney Independent Study Program in the fall of 1967. In the following decades, she played a prominent role in shaping the direction of abstract painting in New York, forging an independent vocabulary and style that melds painting with sculpture, representation with abstraction, and oils and acrylics with nontraditional materials such as cheesecloth and modeling paste. The exhibition brings together a group of Nelson's gestural and large-scale canvases from both public and private collections to form a vibrant and immersive installation.
Give a damn.
Through September 30
Give a damn. features work from the Tang collection by artists who, through their art and its interpretations, have become advocates for freedom, equality, tolerance, justice, and understanding. Among the recent acquisitions being shown is Lari Pittman's seminal Once a Noun, Now a Verb #1, a large-scale yet intensely intricate four-panel painting filled with a cacophony of symbols commenting on American life and culture.
Tel_
Through September 2019
The artist Kamau Amu Patton is reimagining the Tang's mezzanine as a community space for conversation and dialogue, study and contemplation. Tel_ takes its name from the archeological term for an artificial mound formed by the accumulated remains of people living on the same site for hundreds of years. The project is an examination of history (memory) considered as layers, strata, residue. Tel_ is an archive. Tel_ is an open document, a conversation, a dialogic construct.
About the Tang Teaching Museum
The Tang Teaching Museum at Skidmore College is a pioneer of interdisciplinary exploration and learning. A cultural anchor of New York's Capital Region, the institution's approach has become a model for university art museums across the country—with exhibition programs and series that bring together the visual and performing arts with fields of study as disparate as history, astronomy, and physics. The Tang has one of the most rigorous faculty-engagement initiatives in the nation, the Mellon Seminar, and robust publication and touring exhibition initiatives that extend the institution's reach far beyond its walls. The Tang Teaching Museum's building, designed by architect Antoine Predock, serves as a visual metaphor for the convergence of ideas and exchange the institution catalyzes. The Tang is open Tuesday through Sunday, from noon to 5 pm, with extended hours until 9 pm on Thursday. More information at http://tang.skidmore.edu.
Caption for attached image file:
nan-goldin-kenny.jpg: Nan Goldin, Kenny Putting on Makeup, Boston, 1973, cibachrome print, 13 3/4 x 9 inches, Tang Teaching Museum collection, The Jack Shear Collection of Photography, 2015.1.177
Media contact:
Michael Janairo
Assistant Director for Engagement
Tang Teaching Museum at Skidmore College
mjanairo@skidmore.edu
518-580-5542