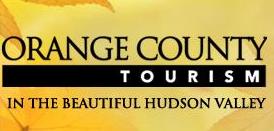 Ideas for Santa from Orange County, NY
Hudson Valley, N.Y.
- Don't tell anyone, but Santa shops in Orange County.  He's also been known to drop in for some holly jolly Hudson Valley holiday happenings.  If you're looking for unique gifts that will have the lucky recipients singing
Joy to the World,
be here with bells on.  In addition to the world-renowned Woodbury Common Premium Outlets, there's Sugar Loaf Art and Craft Village, holiday bazaars, and lots of quaint little shops with local flair. Come celebrate the season.  As Santa can tell you, you'll be tickled to discover that beyond the stores there are even more wonderful choices to delight everyone on your list. Fa, la, la, la, la! Come to the country for a Christmas tree shopping adventure. At Fox Ridge Christmas Tree Farm in Warwick, the woodsman who chops down your tree just might sing along with your Christmas carol. Chilly? Sip hot chocolate by their glowing wood stove. In addition to the pre-cut trees at Lawrence Farm Orchards in Newburgh and Manza Family Farm in Montgomery, enjoy horse-drawn carriage rides, visits with Santa and other holiday happenings to make spirits bright on tree farms throughout the area.    Pack some more jolly events into your tree excursion.  Start Saturday, December 2
nd
, with a Yuletide Celebration Brunch on the Rogowski Farm in Pine Island. Even Santa is expected to appear at this special breakfast feast. Download free tickets to the West Point Band's Hudson Valley Holiday Concert at Eisenhower Hall for that Friday evening, or catch the second performance the following afternoon. St. Nick will also be at Christmas in the Village that weekend, a family holiday favorite at Museum Village in Monroe. Just down the road, drink in the fresh air at Bear Mountain State Park's outdoor ice skating rink. The Trailside Museum and Zoo at the park is open year round, and if you attend the Berry Merry Holiday event on December 17
th
, you'll see the bears open their Christmas presents. Also on the 17
th
, Lycian Centre in Sugar Loaf presents the colorful family musical,
Babes in Toyland
. Treat some friends or relatives to the theater and help them get into the spirit.    You can't have the holidays without sparkly lights, so go to the brilliant Holiday in Bloom display at the Orange County Arboretum in Montgomery starting December 1
st
. Jump in the car and tune in your FM radio to catch holiday tunes synchronized with the lights and displays you'll drive past at Watt Christmas Wonderland in Goshen, open 6-9PM from December 4
th
through 29
th
. Indoor decorations are just as nifty.  Nostalgic Candlelight Tours are featured at historic Hill-Hold in Campbell Hall from 3 to 7PM on Saturday, December 10
th
and 17
th
, and from noon to 4PM on Sunday December 11
th
and 18
th
. Open hearth cooking and a traditional tree and antique toys in the parlor will conjure up warm memories of times gone by. Wondering when to shop while enjoying all of the great holiday events? No problem. Use the Orange County Tourism web site or travel guide to find something for everyone. Who wouldn't appreciate a night or two at a cozy Bed & Breakfast?  The Orange County B&B Association offers gift certificates that are redeemable at any of their member locations. Choose from historic colonials, Victorians, farmhouses, country estates and private cottages with great amenities and gourmet breakfasts. All are located within short driving distance of Orange County's world-class attractions. If hotels are preferred, just click on the "Stay With Us" tab for quick access to some top choices. These properties will be happy to help you to arrange a special gift getaway for anyone on your list. Tickets and gift certificates to a multitude of popular attractions and galleries are just as impressive but less costly gift options. Gift giving made easy, and there's something for everyone! Here are few ideas to get you started:
2-hour sightseeing Hudson River cruise
admission to Storm King Art Center
lift tickets or a ski lesson at Mt. Peter or Tuxedo Ridge Ski Center
admission to Motorcyclepedia to see the world's largest collection of antique motorcycles
a guided bus tour of the United States Military Academy at West Point
a theatrical performance at the Lycian Centre, Eisenhower Hall, or the Railroad Playhouse
a hot air balloon ride
arcade passes for The Castle Family Fun Center
tee time on a golf course
So deck the halls and have fun shopping outside the gift box. You just may discover a few special gifts for
you
to enjoy, too. If you'd like copies of the Orange County Travel Guide to tuck into any Christmas stockings, give us a jingle. Find a complete list of attractions and lodging at
http://www.orangetourism.org/
. For a free copy of the Orange County Travel Guide call 800-762-8687, or email
tourism@orangecountygov.com
. Orange County Tourism is headquarters for tourism in the county and is part of the
I LOVE NEW YORK
program.
RESOURCES
Fox Ridge Christmas Tree Farm,
Warwick.
  845-986-3771,
http://www.foxridgechristmastreefarm.com/
Lawrence Farms Orchards, Newburgh.
  845-562-4268,
http://www.lawrencefarmsorchards.com/
Manza Family Farm, Montgomery.
845-692-4364,
http://www.manzafamilyfarm.com/
Eisenhower Hall, West Point.
845-938-4159,
http://www.eisenhowerhall.com/
/
http://www.google.com/url?q=http%3A%2F%2Fwww.westpointband.com&ust=1321297837891000&usg=AFQjCNFz5nnxEOpeARZfnWLPw-VpQz5HNw
Rogowski Farm, Pine Island.
845-258-4574,
http://www.rogowskifarm.com/
Museum Village, Monroe.
845-782-8247,
http://www.museumvillage.org/
Bear Mountain State Park
. 
845-786-2701, 
http://www.palisadesparksconservancy.org/
Lycian Centre, Sugar Loaf.
845-469-2287, 
http://www.lyciancentre.com/
Orange County Arboretum, Montgomery
. 
845-615-3830,
http://www.orangecountynyparks.com/
Watt Christmas Wonderland, Goshen.
845-294-3391,
http://web.me.com/laurajcurtis1/Watt_Christmas_Wonderland/Welcome.html
Hill-Hold, Campbell Hall.
845-615-3833,
http://www.hillholdandbrickhouse.org/
   Orange County B & B Association.
845-457-3457,
http://www.new-york-inns.com/
Stay With Us.
http://www.orangetourism.org/stay-with-us
# # #
Contact
: Mary Ann McCarthy (845)615-3860
mmccarthy@orangecountygov.com