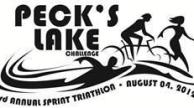 Media Advisory: Photo Opportunities
Gloversville, N.Y.
--The Fulton County Regional Chamber of Commerce & Industry and the Peck's Lake Protective Association (PLPA) are presenting the Third Annual Peck's Lake Challenge Sprint Triathlon to be staged at Sunrise Bay on Peck's Lake in Fulton County, NY on Saturday, August 4. The event is comprised of a ½ mile swim, a 9-mile bike ride, and a 3-mile run.  Race start is 8:30a.m.  Peck's Lake is located on Route 29A within the Towns of Bleecker and Johnstown in Fulton County.  The Peck's Lake Challenge swim course will begin at Sunrise Bay on the north side of the lake, with a "competitive start" time of 8:30a.m.  The "participant start" is at 8:35a.m.  After the swim, triathletes will begin a rolling and challenging bike ride along North Shore Road and proceed to the lake's South Shore Road and back to Sunrise Bay.  After finishing the bike race, athletes will run on North Shore Road and again return to Sunrise Bay for the triathlon finish. The event is limited to 175 athletes and the course is full. Athletes scheduled to participate are New Yorkers who span an area from Long Island north to Plattsburgh and west to Rochester, and residents of 9 additional states. The event is sponsored by Alpin Haus, Brown's Ford, Euprathes and Walmart Distribution Center #6096 with a food donation by Railside Café.  A portion of the proceeds will benefit the NOAH Program (Needy or Alone and Hungry) based at St. John's Episcopal Church, Johnstown.
Media coverage of the event is welcomed.
Notes for press:
There will be no car traffic allowed along the route during the triathlon.
Staging and Transition area
, including race start at 8:30a.m., will take place at Sunrise Bay on North Shore Road of Peck's Lake.  Media are welcome to join us for the start of the race; however, please note that because no cars are allowed on the race route, you will not be able to drive to or from the staging/transition area.  Please follow the parking attendants' instructions to park above the transition area.
Peck's Lake Road
  The bike portion of the race will carry triathletes from North Shore Road to Peck's Lake Road and then on to South Shore Road.  At Peck's Lake Road and Route 29A there is the Peck's Park Schoolhouse and Museum with a parking area.  You will be able to enter and exit the event at this point at any time, but will not have access to staging/transition area in Sunrise Bay during the race unless you enter area by boat (after swim portion of race) or walk to that area (about 2 miles). RACE RESULTS: Will be available on the Fulton County Chamber's website,
http://www.fultoncountyny.org/
.
###
Contacts:
Mick Brenno, Peck's Lake Protective Association; Peck's Lake Challenge Sprint Triathlon Event Coordinator, (518) 725-9041 Gina DaBiere-Gibbs, Director of Tourism, Fulton County Regional Chamber of Commerce & Industry (518) 725-0641