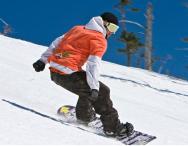 Storm Total 7-12" of Snow!!!!
Wilmington, NY
-- To quote News Channel 5's weather report this morning "Jackpot Adirondacks", we picked up a pretty sweet total for the storm that rolled through the ADKS today.  In the words of Eddie one of our Park and Pipe gurus...."It is boot deep" We are happy with that!  Our plan calls for major snowmaking on the lower mountain for the next five days to secure a significant base.  After that we will be heading back to the summit. 
Super Sunday Dec 13th
. Presented by Cunningham's Ski Barn.  This event is always my favorite $35.00 adult lift tickets, $30 teens and $25 for juniors.  Sign up for the "Hello my name is...." Rail Jam, Super awesome band Trenchtown Oddities will rock the Cloudspin Lounge for Après and we will have a premier of CS Films new movie "Hit or Miss" filmed on location at Whiteface.
Last chance for Snow Samplers and Season Passes
. We hooked everyone up with an extended deadline, but that is about to conclude on December 11th.  Be sure to buy your passes now, it is the most cost effective way to experience numerous days on the mountain!