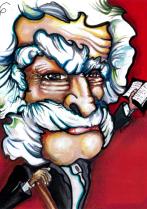 Elmira, N.Y.
- From leaf peepers to thrill seekers, fall in the Finger Lakes brings an influx of visitors, and the Chemung County Chamber of Commerce's Convention & Visitors Bureau (CVB) is working to lure them locally with the return of Thrills & Chills, a month-long promotion of Halloween and harvest time happenings. A sampling of seasonal fun includes:
Monday evenings in October, Flashlight Cemetery Tours at Mark Twain's Gravesite will be provided by Mark Delgrosso, of Mark Twain Country Tours. The one-hour twilight tours will depart from the Walnut Street entry to Woodlawn Cemetery and reveal tales of Twain and his family at the author's final resting place. Reservations can be made by calling (607) 734.9547 or by e-mailing info@christmas-house.com.
Saturday, October 12th, Southern Tier Kayak Tours will offer a guided Leaf Peeping Paddle on the Chemung River, winding through glacier-cut cliffs and filled with spectacular foliage. No experience necessary and all equipment is provided! To reserve a space, call (607) 220.3642 or visit http://www.stktours.com/.
Saturday, October 12th, a Screech-Owl Bird-Watching Hike will be presented by Friends of the Chemung River Watershed & the Chemung Valley Audubon Society. This will be an easy bird-watching hike along the Chemung River that will include a visit to a mysterious tombstone and a stop at Foster's Island to call screech owls. Reservations can be made at (607) 846.2242 or riverfriends@stny.rr.com.
Friday, October 18th & Saturday, October 19th, the 7th Annual Ghost Walk through Woodlawn Cemetery will return with a series of lantern-lit strolls to hear first-hand accounts of history as told by tenants of the cemetery. Reservations can be made by contacting the Chemung Valley History Museum at (607) 734.4167 or http://www.chemungvalleymuseum.org/.
Sunday, November 3rd and Monday, November 4th, Charlie's Café will again offer a Blind Harvest Dinner, a truly unique experience where diners will be served a multi-course, gourmet dinner & wine pairing in complete darkness to enhance the sensory experiences. Space is limited and can be reserved by calling (607) 733.0440.
###
In addition to these events, a full listing of events can be found on the Event Calendar at
http://www.marktwaincountry.com/
. MEDIA CONTACT: Cynthia Raj
Cynthia@ChemungChamber.org
(607)734.5137