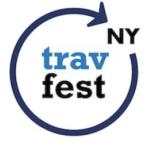 New York City – Tickets for the 5th annual New York Travel Festival (NY Trav Fest) are now on sale! Taking place from April 20 to 23, 2017, at several locations in Manhattan, the festival is a series of events for people whose lives are touched by travel: members of the travel industry, travel media, lifelong travelers, long-term travelers, college students, and people in career transition. The festival provides attendees with the opportunity to participate in workshops, network with industry professionals, and attend panel discussions and presentations about trending topics in travel.
NY Trav Fest is partnering with NYU Tisch Center to host the Borough Tourism Summit on Thursday, April 20, and the 3rd annual Travel Unity Summit, at NYU Woolworth Building (15 Barclay Street) on Friday, April 21. Saturday and Sunday of NY Trav Fest will take place at Bohemian National Hall (321 East 3rd Street) and Hostelling International NYC (891 Amsterdam Avenue), respectively. Doors are open from 10:00 AM to 6:00 PM on Thursday through Saturday, with registration beginning at 9:00 AM; Sunday starts one hour later (at 11:00 AM).
About the New York Travel Festival:
NY Trav Fest is an event for travel professionals and professional travelers. Our panels, speakers, and workshops provide professional development opportunities for those in the travel industry, or wanting to join it, as well as inspirational talks to offer ideas about an array of destinations and types of travel.
Don't miss a chance to chat with representatives from CzechTourism, other destinations and travel industry brands, and learn more about local and international travel. There will also be expert-led sessions and consultations throughout the event.
Ticket Options:
$130 – All Access Pass
Passes include access to all presentations, panels, workshops, and networking events part of the New York Travel Festival.
$30 – Borough Tourism Summit, April 20
$20 – Travel Unity Summit, April 21
$70 – Weekend Ticket, April 22-23
$30 – Sunday-only Ticket, April 23
A tentative schedule of events is available at bitly.com/NYTF2017Tentative
To order tickets, visit Eventbrite – bitly.com/NYTF2017Tickets.
Media Contact:
Roni Weiss
Tel: (917) 719-1083
Email: roni@nytravfest.com