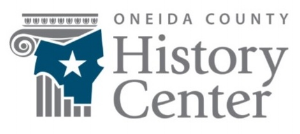 Utica, N.Y. – Tickets are now on sale for the Historical Hall of Fame and Living Legend induction celebration!
Join the Oneida County History Center to honor and celebrate the class of 2022. The event will be held at Valentino's Banquet Hall, New Hartford, and includes an opening reception with music by Monk Rowe & John Hutson, a cash bar, dinner buffet, Hall of Fame induction video, and speeches from the Living Legends.
Tickets should be purchased in advance by Friday, October 21. Tickets are available on-site at the History Center or online through the History Center e-Bookstore and cost $55 for current OCHC members, $65 for the general public, and $480 for tables of 8. Proceeds from the event will benefit technology improvements at the History Center.
The celebration honors:
2022 Hall of Fame Inductees
Community leader and Utica's first Black dentist Dr. David A. Brown
Congressional Medal of Honor recipient Charles F. Cleveland
Political pioneer and public servant Beatrice "Bea" DeSantis
Revolutionary War hero Colonel Peter Gansevoort
Bonnie Tamer Woods, community ambassador and founding member of Mother Marianne's West Side Kitchen.
2022 Richard W. Couper Living Legends
Cultural leader Robbie Dancy
Spiritual advisor Sister Maureen Denn
Purple Heart recipient and veterans advocate Joseph T. Fraccola
"The Voice of Vernon Downs," Jim Moran. Biographies for each inductee are attached.
Visit oneidacountyhistory.org for more information and inductee bios.
Thank you to our event sponsors: Trenton Technologies & Albert S. Mazloom, CEO; Greg Evans; Highlander Communications, Mohawk Valley Health System; Earle Reed; & Ed Welsh!
Oneida County History Center is a private 501(c) (3) not-for-profit educational institution dedicated to preserving the history, heritage, and culture of the Greater Mohawk Valley for present and future generations. Please contact the History Center at 315-735-3642 or visit the HISTORY CENTER website (www.oneidacountyhistory.org) for additional information.
###
Contact: Rebecca McLain