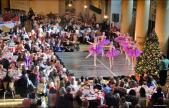 One of the Capital Region's Most Popular Holiday Events Slated for Nov. 17 at 11 AM & 3 PM
Saratoga Springs, N.Y.
- Saratoga Performing Arts Center announced that tickets for its popular holiday fundraiser, the Nutcracker Tea, will go on sale on Friday, October 25 at 10 a.m. at
spac.org
.  Sponsored by The Albany Academies and presented by SPAC's Action Council, the event features a special one-hour performance of beloved classic ballet,
The Nutcracker
by Northeast Ballet Company. The event, which typically sells out, is slated for Sunday, November 17 with seatings at 11 a.m. and 3 p.m. "Last year's sell-out Nutcracker Tea was a huge success, delighting children and adults alike, while providing an important introduction to the classical arts. The energy surrounding this year's event from the sponsor, The Albany Academies, and of course, our Action Council members, is superb, promising to be a memorable afternoon for our guests," said Marcia J. White, SPAC President and Executive Director. "Like SPAC, The Albany Academies work to cultivate a passion for artistic expression through performing and visual arts. Albany Academy for Girls and The Albany Academy have celebrated academic, athletic and artistic achievements for 200 years and we are thrilled to partner with SPAC by sponsoring the Nutcracker Tea," said Wendy Muhlfelder, Albany Academy for Girls Associate Head of School. Other highlights include an elaborate English Tea with mini sandwiches, cookies and other delicacies, holiday photos, a raffle, and gift for each child. Gorgeously costumed dancers perform a special one-hour version of the holiday favorite, while children are invited to sit at the edge of the stage.  Holiday trees and decorations transform the Hall of Springs into a winter wonderland for this special event. Proceeds from the fundraisers benefit arts education at SPAC. 
The Nutcracker
, composed in 1891 by Tchaikovsky, is a fairy tale ballet that tells the story of a little girl's journey through a fantasy world of fairies, princes, toy soldiers and an army of mice. First performed in 1892 in St. Petersburg, Russia, it has become an American classic since choreographer George Balanchine introduced his production in 1954 in New York City. Tickets for both the 11am and 3pm seatings are $60 for adults and $25 for children and can be purchased online at
spac.org
or by contacting Linda Deschenes, 584-9330, ext. 115.
###