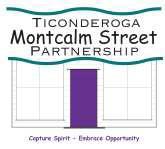 Ticonderoga, N.Y.
- Preparations for Ticonderoga's Streetfest 2012 are now complete and historic Montcalm Street in the heart of downtown Ticonderoga will be once again be converted into a pedestrian mall -- Saturday, July 28th open to the public from 10:00 AM until 3:00 PM. Sponsored by the Ticonderoga Montcalm Street Partnership, Streetfest is an annual community celebration of arts and crafts, shopping, food, fun, entertainment, and family activities to bring people to the town's historic Montcalm Street district. As Ethan Allen is purported to have said to the Green Mountain Boys while visiting a tavern in Castleton, VT in May of 1775, "Let's go over to Ticonderoga and have some fun." "You'll want to heed his words yourself," invites Rolly Allen, event chairperson, "Get a group together and come the 28th!"With nearly 60 participants, this year's event is even bigger and better than years past. Participants are too numerous to list individually; but the street will be filled with local merchants and organizations, food vendors, kiosks of arts and crafts, art, artisans, a farmers market featuring locally grown items, antique and new automobiles and boats, and other exhibits. Plan to come early so that you and the kids don't miss anything. Food offerings will be extensive and there will be free, live entertainment staged on the street. Featured entertainment includes a fife and drum muster from Fort Ticonderoga to kick off the event at 10 AM. Loose Connections will perform from 11AM to 12:30 PM followed by the Eva Channel from Burlington, VT featuring vocalist McKenna Lee from 1:30 PM to 3 PM. Activities for children include a display from All 'Bout Critters; Penelope the Clown sponsored by the Ticonderoga Federal Credit Union will offer free face painting and balloons; the Lakeside Regional Church (formerly the Hague Wesleyan Church) will host Story Time at 10; 12:30 and 2 and the "Amazing Adventure". There is much to see and do in Ticonderoga this summer! Streetfest activities on Montcalm Street will be followed by a Clambake and a performance by the Adirondack Jazz Orchestra on the grounds of Fort Ticonderoga later in the day. Be sure to visit the Ticonderoga Area Chamber of Commerce website,
http://www.ticonderogany.com/
frequently for a full calendar of events. The Ticonderoga Montcalm Street Partnership seeks to create meaningful, long-term change in Ticonderoga's traditional business district and to promote economic revitalization.
###
Contact
: Rolly Allen, TMSP Enterprise Committee Chair 518.543.8822 or via Pam Nolan at
pnolan@tfcunow.com