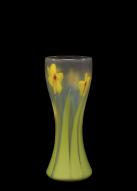 Related Exhibit to Showcase Restored Watercolor Sketches for Tiffany Designs
Corning, NY
- The innovations and artistry of Louis Comfort Tiffany will be explored in an exhibition of his blown glass works opening at The Corning Museum of Glass on November 1, 2009, and running through October 31, 2010.
Tiffany Treasures: Favrile Glass from Special Collections
will showcase nearly 60 hand-wrought pieces designed by Tiffany during one of his most fertile periods of artistic ingenuity, and made at his glasshouse in Corona, NY, between 1895 and 1920. The decorative vases and functional vessels on view-including floral vases and cameo and Cypriot works-were made with Tiffany's signature Favrile glass, distinguished by its deeply toned, rich colors and often brilliant, iridescent finish. Trademarked in 1894, Favrile glass (the name is derived from the old English "fabrile" meaning "hand-wrought") quickly became fashionable and inspired many other designers. The pieces in Tiffany Treasures are drawn primarily from the A. Douglas Nash and Edythe de Lorenzi Collections at Cornell University's Herbert F. Johnson Museum of Art, and from the rarely seen Frank and Mary Elizabeth Reifschlager collection of Tiffany glass donated by the couple to the Rockwell Museum in Corning, NY, in the early 1990s. "This assemblage of beautiful blown glass objects reflects Tiffany's bold departure from the often fussy, predominantly Victorian style of the times in favor of more natural, sophisticated, and modern forms," says
Jane Shadel Spillman
, curator of American glass. "He created some of his finest work in the first quarter century of production, between 1893 and 1918." Tiffany Treasures also includes a stunning, highly unusual Tiffany Peacock blown-glass lamp. The lamp was donated to the Corning Museum fully shattered, but has now returned to its full glory after a painstaking three-month restoration process by Museum conservators. "The Corning Museum of Glass is one of the very few places where we can admire Tiffany's glass, and (in the Rakow Library) examine his original designs and his collaborators' notebooks, and see what his contemporaries accomplished, and watch glassmakers demonstrating some of the techniques that Tiffany's glassmakers used," says David Whitehouse, the Corning Museum's executive director. The Corning Museum of Glass also hosts the largest permanent gallery of glass by Tiffany's chief artistic and commercial rival, http://www.cmog.org/dynamic.aspx?id=196&terms=carder [Frederick Carder], who was Steuben Glass Works' manager and principal designer from 1903 to 1932. During the run of the Tiffany Treasures exhibition, visitors will be able to examine and compare a variety of blown works by these two contemporaries. Curator-led tours of the Tiffany Treasures exhibition, included in the cost of Museum admission, will be offered to the public on Fridays at 11:00 a.m. during the month of November.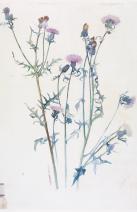 From November 2, 2009, to April 30, 2010, the Museum's
Rakow Research Library
, the library of record on glass and glassmaking, will present Tiffany Treasures: Design Drawings by Alice Gouvy and Lillian Palmié, a complementary exhibition showcasing eight recently restored watercolor sketches by two of Tiffany's largely unacknowledged female employees from the enamel department of Tiffany Furnaces. Seven of the drawings bear Gouvy and Palmié's signatures, now made more clearly discernible thanks to the conservation work. The drawings depict plants and flowers in their natural state, forms that served as inspiration for much of Tiffany's work. The Rakow Research Library also holds in its collection archives from Frederick Carder and from Arthur J. Nash, Tiffany's master glassmaker. Nash developed the unique formula for Favrile glass, which he never shared with anyone, including Tiffany. This coded recipe is part of his collection of notebooks and journals, acquired by the Library in 2004 along with unpublished letters and handwritten notes.
The Corning Museum of Glass
The Corning Museum of Glass (www.cmog.org) is home to the world's most comprehensive collection of glass. Spanning the globe and encompassing more than 3,500 years of human ingenuity, the collection includes masterpieces from ancient Egypt, Greece, and Rome; the great civilizations of Islam, Asia, Europe and the Americas; and the range of artistic movements beginning in the late 19th century and extending to the present day. Interactive exhibits tell the story of life-changing historic advancements and contemporary innovations in glass technology. Live glassblowing demonstrations (offered at the Museum, on the road in the U.S. and abroad, and at sea on Celebrity Cruises) bring the material to life for audiences of all ages. Daily Make Your Own Glass experiences at the Museum enable visitors to create their own work in a state-of-the-art hot glassmaking studio. The Museum's campus includes a year-round glassmaking school and the Rakow Research Library, the world's foremost archive and reference collection on the history of glassmaking. A center for scholarship, the Museum also publishes glass-focused periodicals, books and exhibition catalogs. Located in the heart of the Finger Lakes Wine Country of New York State, the Museum is open daily, year-round. Kids and teens, 19 and under, receive free admission. The Corning Museum of Glass is conveniently located directly off I-86/Rte. 17, mid-way between Niagara Falls and New York City.  ###