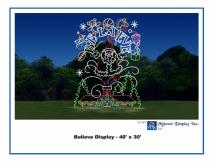 Believe ...
          ...in the support of community.
          ...in the abilities of children.
          ...in the dedication of volunteers.
          ...and, in the spirit of holiday cheer.
Albany, N.Y.
- Believe in all these as the Albany Police Athletic League presents the 15th Annual Hannaford Capital Holiday Lights in Albany's Washington Park with the 2011 theme, "Believe." "Most lights' shows in the United States last about three to five years," said PAL Executive Director and Albany Police Sgt. (Ret.) Lenny Ricchiuti. "With our being able have this 15th annual show, is a true testimony to the power of believing in good people in an outstanding community."  Since the show started, Albany PAL has grown from serving 400 children each year to now having programs and activities for close to 3,000 young people in the Capital City. "We've been fortunate. We've been able to grow the show from 50 displays when it started to more than 125 displays and scenes," Sgt. Ricchiuti said. "And having the Lake House at the end of the drive through Washington Park adds to the event greatly," he said. From Nov. 25 through Jan 2 this year, Hannaford Capital Holiday Lights will transform the historic carriage paths in Washington Park into a wonderful world where even the most hardened heart has to believe in the joy of the holidays. The lights show is the centerpiece of holiday fun in the Capital Region and is a world where wonderful things can -- and do -- happen to all who believe. Santa waits for children to visit him in the Lake House. Reindeer come to see girls and boys of every age. And, you might even get a hug from Rudolph. Sponsored by Mayor Gerald D. Jennings and the City of Albany, Albany PAL and presented by Hannaford Supermarkets, this year's show is, of course, something special in which to believe. Walking Nights to Help Others For the second year, Albany PAL has three special nights that benefit the community. "We'll be accepting monetary donations only, rather than merchandise, to enable the beneficiaries to purchase needed items," Sgt. Ricchiuti said. On Nov. 22, walkers can stroll through the lights along Washington Park's Lake with funds raised benefitting PAL's Holiday Toy Drive which serves about 1,000 families each year.  On Nov. 23, visitors may walk through the lakeside displays to help the animals at the Mohawk Hudson Humane Society. Then, on Jan. 2, take a stroll to benefit local food pantries. Hours, Admission, Special Features Hannaford Capital Holiday Lights is open nightly from Nov. 25 through Jan. 2. Hours are Sundays through Thursdays from 6 to 9 p.m. and Fridays and Saturdays from 6 to 10 p.m. Admission prices are $15 per car; $25 per limousine or 15-passenger van; and $75 per bus, with all proceeds benefiting the youth programs of Albany PAL. Discounted tickets are available for $10 at Hannaford Supermarkets for admission on Monday, Tuesday and Wednesday evenings. A $5 discount is offered on Monday, Tuesdays and Wednesdays as well for those showing their Times Union SourceCard. Only one discount per admission will be honored. At the end of the drive, the Lake House is transformed into Santa's Workshop and is open most evenings (closed Dec. 24, Dec. 25, Dec. 31, Jan. 1 and Jan. 2). Special features include face painting, balloon sculptures,  a craft show for holiday shopping, great refreshments, photos with Santa (through Dec. 23), and visits from special friends including Frosty. Carriage rides through the show are available Thursday through Sunday, by contacting Saratoga Horse and Carriage Company. For reservations, call 518-584-8820.  Or, gather up your friends, neighbors, family or co-workers and charter an Albany Trolley for an excursion through the Lights. Call 518-462-3825 for details. To volunteer or for more information about Hannaford Capital Holiday Lights, call Albany PAL at 518-435-0392. For more information and the most up-to-date schedule of events at Hannaford Capital Holiday Lights, visit www.albanycapitalholidaylights.com or call Albany PAL.
###
MEDIA CONTACT
: PAL Executive Director Sgt. (Ret.) Lenny Ricchiuti PH: 518-435-0392 CELL: 518-221-3306 E-MAIL:
lennyalbpal@nycap.rr.com
OR Kathy Condon * Condon Communications PH: 518-436-1103 CELL: 518-441-0259 E-MAIL:
kcondon@netheaven.com