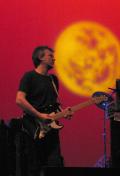 A note-for-note live re-creation of Pink Floyd's eternal masterpiece
Schenectady, N.Y.
-Classic Albums Live:
Dark Side of the Moon
is not a tribute act. There are no gimmicks or fake English accents. It is simply a note-for-note, cut-for-cut live re-creation of one of the greatest rock records ever made, Pink Floyd's eternal masterpiece,
The Dark Side of the Moon
. Classic Albums Live:
Dark Side of the Moon
visits Proctors, 8 p.m. Thursday, Jan. 23. Classic Albums Live brings together some of the country's finest musicians to re-create onstage the exact sounds of the most important pop albums of the 1960s and 70s. Musicians are chosen according to their sound and the way they fit into a particular niche, be it Pink Floyd, The Beatles or The Rolling Stones. The musicians treat these revered albums like a score-the way a symphony orchestra treats Mozart. Craig Martin, founder and music director of Classic Albums Live, bought his personal copy of
The Dark Side of the Moon
on eight-track tape in 1976. He has since owned it on vinyl, cassette, compact disc and digital download. "I also bought the remastered box set," he says. "There are only a handful of albums that would warrant that kind of consumerism.
Dark Side
was one of the albums that I needed with me during every phase of my life." Is it any surprise that it remains the flagship work of Classic Albums Live? First performed onstage at London's Rainbow Theatre in 1972, under the title, "Eclipse (A Piece for Assorted Lunatics),"
The Dark Side of the Moon
was an immediate critical hit, drawing praise from The Times for being "completely understanding and musically questioning." On its March 1, 1973 release
Dark Side
entered music history as one of the most successful works of all time, eventually tracking an incredible 741 consecutive weeks on the Billboard album chart. It is estimated that one in every 14 United States citizens under the age of 50 owns a copy of the record. Because of the way the album touches on profound universal themes of mental illness, conflict, greed and the mystery of the space/time continuum, it continues to reach across generations. Experience it anew with
Classic Albums Live: Dark Side of the Moon.
Following a brief intermission after the performance of
The Dark Side of the Moon
-which includes favorites like "Us and Them," "Time," "On The Run," "Brain Damage" and "Money"-Classics Albums Live will perform a set of Pink Floyd's greatest hits.
###
Classic Albums Live: Dark Side of the Moon
8 p.m. Thursday, Jan. 23 Proctors 432 State Street, Schenectady $20-$45 518.346.6204
proctors.org
Photos: 
http://publicfileshare.proctors.org/press-info/PROCTORS_2013-14/Classic%20Albums%20Live/
###