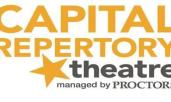 Albany, N.Y.
- Cue thunder. Cue lightning. A blonde actress bursts into a New York loft, wet, whining and late for her audition; her Bronx burr rattling as she makes her expletive-soaked excuses. The playwright, daft enough to be directing his own work, is unimpressed. New York audiences felt otherwise. They were impressed enough to turn David Ives' 
Venus in Fur
 into an unabashed Broadway hit. Charles Isherwood, of the New York Times, called the sexy, darkly comic piece "seriously smart and very funny." Capital Repertory Theatre is now offering the regional premiere of the Tony Award-winning 
Venus in Fur
 under the heel of Producing Artistic Director Maggie Mancinelli-Cahill.  Preview performances begin Sept. 27. Opening night is Oct. 1. Performances continue through Oct. 20. "There's something going on in society today," Mancinelli-Cahill says, "where new feelings are being explored, and new vulnerabilities exposed." Like the ubiquitous 
50 Shades of Grey
, 
Venus
 hinges on kink and the power play it implies, sexually and otherwise. But Ives brings his own powers to bear, too. Known for supremely literate but broadly comic inventions like 
All in the Timing
 and 
Time Flies
, Ives predicates this play on Leopold von Sacher-Masoch's 1870 erotic classic 
Venus in Furs
. From Sacher-Masoch we get the term Masochism, and from Masochism, Ives gets much of the humor and drama in 
Venus
. "The shoe gets put on both feet here," Mancinelli-Cahill giggles, calling Ives' structure-which riffs on both the novella and the making of theater-a sort of verbal foreplay. As the afternoon audition continues, Vanda Jordan and Thomas Novachek parry and thrust in mythic proportions. Soon enough the playwright realizes that the actress is, as Mancinelli-Cahill says, "someone far more impressive than he ever imagined." Lauded actor Timothy Deenihan plays the unsuspecting Novachek, whose phone calls home to his fiancée ring ever more false as he falls under Vanda's spell. A veteran at theREP, the London-trained Deenihan has previously appeared in productions of 
The Seafarer, Betrayal
 and
 Race
. Deenihan, who starred in the British series 
Brookside
 and 
Batman Begins
, has also been seen locally at Stageworks/Hudson. On Broadway, Nina Arianda won a Tony Award for her portrayal of Vanda Jordan, strutting in thigh-high black leather boots and matching lingerie while transforming from ditz to dominatrix. At theREP, Jenny Strassburg plays Vanda, her mane of blond curls quivering as she puts Thomas in his place. Strassburg is making her Albany debut, but she has been frequently seen across the Vermont border at Bennington's Oldcastle Theatre Company and the Dorset Theatre Festival. Both Deenihan and Strassburg have extracurricular lives as physical trainers, and they bring a welcome...fitness...to their roles in 
Venus in Fur
. Mancinelli-Cahill has assembled a crack team to create her own vision of 
Venus
, including set designer Ted Simpson; costume designer Denise Massman; lighting designer Rachel Budin; composer/sound designer Steve Stevens; and stage manager Ashley Dumas. Preview performances for 
Venus in Fur
-which runs 95 minutes with no intermission-take place Sept. 27-29. Opening night is Tuesday, Oct. 1. Regular performances continue through Sunday, Oct. 20. Performance times: 7:30 p.m. Tuesday through Thursday; and 8 p.m. Friday and Saturday, with matinees, 2 p.m. Wednesday, Oct. 9; 3 p.m. Saturday; and 2 p.m. Sunday. Capital Repertory Theatre, 111 N. Pearl Street, Albany. Tickets range from $20 to $60. Students with valid ID: $16 all shows. For tickets and information, call TICKETS BY PROCTORS, (518) 445-SHOW (7469) or visit 
capitalrep.org
. Opening night includes a live lobby performance by Ryder & Hazel with the Dustbowl Faeries and complimentary post-show champagne and dessert. The Chef's Table performance on Tuesday, Oct. 8 includes pre-show music by Amy Shake and complimentary hors d'oeuvres for ticket holders from The Hollow Bar + Kitchen, beginning at 6:30 p.m. in the lobby. Discussion nights for 
Venus in Fur
,
 with the director and cast members, will take place following the Wednesday evening performances on Oct. 9 and 16. The Sunday, Oct. 20 matinee will be preceded by a Behind the Scenes event, which features a complimentary continental breakfast and a presentation by Mancinelli-Cahill titled "Who was Venus and What's She Doing in a Play Like This?" Food service starts at 12:30 p.m. with the presentation following from 1:10-1:30 p.m.
Venus in Fur
 is supported by Marquee Sponsor - E. Stewart Jones Law Firm and Media Sponsor - Albany Broadcasting.
###
Michael Eck II Broadway Public Relations Liaison Proctors & Capital Repertory Theatre
meck@proctors.org
518.382.3884, ext. 181