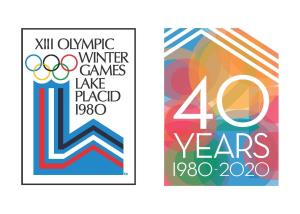 From Feb. 13-23, 2020, Lake Placid will roll out the welcome mat and offer up a full slate of activities to revel in its unmatched Olympic legacy
LAKE PLACID, N.Y. --- Forty years ago, Lake Placid lit the Cauldron, signifying the beginning of the XIII Olympic Winter Games. On Friday, Feb. 14, the Cauldron will be re-lit as the upstate New York community celebrates 40 years since it hosted those iconic Games.
"The 1980 Olympic Games transformed Lake Placid into a winter sports destination, and that spirit is still very much alive today," said Lake Placid Mayor Craig Randall. "It remains a place for aspiring current and past Olympians and it's a place where the  Olympic venues are still in continuous use for training and national  and international competition. These are some of the reasons why Lake Placid's Olympic legacy will continue for years to come."
The celebration and lighting of the anniversary flame begins at 5 p.m. with a torch run and parade down Lake Placid's Main Street where several of the Lake Placid Games' volunteers joined by past, present and future Olympians will take turns carrying the flame, given to them by actual Games' torchbearers. 
Following the parade, just as they did 40 years ago, the 1980 Games' torchbearers will carry the flame to the North Elba Show Grounds to begin the anniversary lighting ceremony. The event, which begins at 5:45 p.m., will be held on the exact same site as the Opening Ceremony, and highlight the region's rich heritage through speeches and presentations from the International Olympic Committee and local, state and national representatives. Rev. J. Bernard Fell's Opening Ceremony speech will come alive through video and a fireworks display will cap the evening. 
The 1980 Winter Games have long been remembered for the heroics of the U.S. men's Olympic hockey team's improbable win over the Russians, known as the "Miracle on Ice," speed skater Eric Heiden's five gold medals, in world or Olympic record time; the Opening Ceremony and the United States figure skating team, dubbed the "Dream Team." 
The torch run and lighting of the anniversary Cauldron is followed by a week of  events celebrating the Games. The entire village including the Olympic venues will be on full display during this community-wide celebration and more than 20 Olympians will participate in events available to the public.
A sampling of public events throughout the week of Feb. 13-23 include skating with Olympic medalist Scott Hamilton at a Sk8 to Elimin8 Cancer™ ,  a meet and greet with Olympic speedskater medalist Dan Jansen; Dream On, The 1980 Lake Placid Olympic Figure Skating Reunion Gala and much, much more. 
For a full schedule, visit LakePlacid40.com.
Contact:
Carrie Gentile, 40th Anniversary Committee
cell: 518-524-7126; LakePlacid40@LakePlacid.com
Jon Lundin, 40th Anniversary Committee
cell: 518 -637-688; jlundin@orda.org