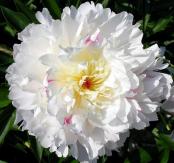 Poughkeepsie, N.Y.
- The historic peony collection at Locust Grove estate in Poughkeepsie will be in bloom this week. Join Tim Steinhoff, Director of Horticulture, and horticulturist Susan MacAvery for a free guided tour on Thursday, June 5, 2014 at 6:30pm. Discover how the plants from this expansive collection have survived and been cared for through division and replanting, as well as the challenges of classifying and maintaining the collection. Tour will also include a walk down the Long Border to view foxtail lilies and other late spring bloomers, as well as an overview of the Heritage Vegetable Garden. To learn more about the gardens and grounds at Locust Grove visit
www.lgny.org
.
This event is weather permitting (no rain date), please register online at www.hvga.org to provide contact information in case of cancellation.
Peonies in Bloom Tour, Locust Grove
Date: Thursday, June 5th, 2014
Time: 6:30pm-7:30pm
Location: Locust Grove, 2683 South Rd, Poughkeepsie, NY 12601
Fee: FREE! Registration required online at www.hvga.org
The guided peony tour at Locust Grove is part of Hudson Valley Garden Association's Garden Evenings summer program. HVGA events are open to the public - membership not required. Additional HVGA events currently scheduled include a guided tour of Wethersfield Garden in Amenia on July 3rd ($12) and a bus trip to Wave Hill, a public garden in Riverdale, on July 25th ($48).
Learn more about Hudson Valley Garden Association and register for garden events at www.hvga.org. For more information email laura@hvga.org or call (845)418-3640.
###
PHOTO: HVGA.PeonyWhite.jpg
Photo caption: Peonies make gorgeous cut flowers and are an easy to grow, June-blooming, deer resistant perennial. Photo credit: Locust Grove.