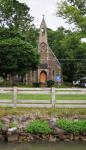 Niagara Falls, N.Y.
- With the growth in religious travel over the past few years, and a need to present tour products that focus on the interests and sensitivities of this market, Encounter Niagara Tours in Niagara Falls, NY is presenting a series of Religious Tour Products.   Religious Tour Operators, Church Groups and groups that are comprised of people of faith can find a range of Tours that allow religious groups to more fully integrate their Faith with an experience in the Niagara Region.
The Master's Vineyard
is a Wine Tour that combines Viticulture
(the science, production and study of grapes which deals with the series of events that occur in the vineyard)
with Viniculture
(the cultivation of grapevines for winemaking)
.  This Tour blends both of these with scriptural references, historic accounts and a unique approach to wine as it was represented in Biblical times.  "Throughout scripture, we see mention of wine and winemaking very frequently" explains Peter Green, Tour Director for Encounter Niagara, "and the Gospels include everything from winemaking, the storage of wine and one of Jesus' most famous miracles that was done to prolong a wedding party!".  The Tour does not take one particular point of view, but rather allows an exploration of the history of wine, its role in scripture and how those who choose to partake of wine can broaden their knowledge by exploring the Niagara USA wine region.  The tour includes 3 winery stops with food samplings provided at each.  Non-alcoholic samplings are available. 
Houses of Worship
visits various places of worship in the Buffalo/Niagara area.  From

the majestic Our Lady of Victory Basilica, proclaimed by the Vatican newspaper as "one of the most superb churches in America", to humble houses of worship that served to shelter those who fled slavery on the Underground Railroad.  This Tour also visits the magnificent Tiffany Stained Glass Windows at the First Presbyterian Church in Lockport, NY.  "We explore the diversity and the significance of houses of worship and how they played a key role in building our communities, establishing vital social services and ensuring social justice" comments Tour Director Peter Green, "Stained glass windows and the images they contain were not simply put there for decoration; they served a purpose in educating those who entered the church!". 
Houses of Worship
blends an appreciation of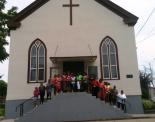 architecture, the stories behind various Churches, Cathedrals and even a Shrine, and transcends denominational barriers to shed light on the role of faith through our Nation's history.  In addition, key figures of history greet and engage the Tour - including Father Louis Hennepin, who in 1678 first visited Niagara Falls as part of the expeditions led by the explorer LaSalle.  People, places and stories are linked to the role of religion in exploring and founding our nation.

Other faith-friendly programming includes
The Underground Railroad
and other itineraries rendered to be friendlier to the Religious traveler.  Encounter Niagara offers these itineraries to pre-formed groups, Tour and Coach Companies and local Receptive Operators in the Niagara Region.  Retail (public) tours will be introduced in 2014. 
###
Photo #1 - a small stone church sits beside the Erie Canal in Lockport, NY.  The story of how and why this Church was built there is one of the highlights of the Houses of Worship Tour. Photo #2 - guests from Oklahoma and Texas enjoy a visit to the First Presbyterian Church in Lockport, where many of the stained-glass windows were made by the Tiffany Company. Photo #3 -  A family group from Virginia visits the "Salem Chapel" - Harriet Tubman's home church while she was in Canada, as part of a cross-border Underground Railroad Encounter. Photo #4 -   a visit to Lewiston, NY, provides a wonderful encounter with Churches that served the Underground Railroad.
Contact:
Danielle Green Encounter Niagara Tours
danielle@encounterniagara.com
716-462-4402