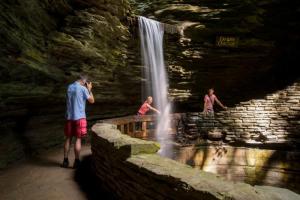 Finger Lakes Regional Tourism Council shares ways to celebrate May 5-11, 2019 
Pittsford, N.Y. - National Travel and Tourism Week, an initiative led by U.S. Travel Association, runs May 5-11, 2019, highlighting the contributions and accomplishments of the U.S. travel industry. This year's theme, "Travel Matters" focuses on the value of travel and its impact on the economy, local businesses, and personal well-being. In honor of the annual celebration, the Finger Lakes Vacation Region has put together various events, campaigns, and promotions.  
The Finger Lakes Regional Tourism Council (FLRTC) is a staunch advocate that "travel matters." Responsible for promoting the 9,000-square-mile region, FLRTC assists in driving tourism - an industry that supported over 58,000 jobs in the Finger Lakes and brought $3 billion in traveler spend in 2017, as reported in last year's I Love NY "Economic Impact of Tourism in New York" report. 
As part of this year's National Travel and Tourism Week the Finger Lakes Regional Tourism Partner counties are promoting in several ways: 
"I Love Cortland County" photography contest by the Cortland County Convention and Visitors Bureau. Amateur, professional and youth photographers are encouraged to share their photos of the beautiful sights that make Cortland County great. Selected pictures may be used in upcoming promotional and marketing materials, including the 2020 Cortland County Visitors Guide. Contest rules are available here. 
Visit Rochester will be highlighting members of the local hospitality industry on their social media channels that make a visit to Monroe County so memorable. Follow along on Facebook and Twitter.  
Ithaca Tompkins County Convention & Visitors Bureau/Visit Ithaca will host a marketing workshop on May 8, 2019 for all Tompkins County tourism and hospitality partners including agriculinary tourism partners and Tompkins Tourism Program grant recipients. Immediately following, Visit Ithaca will hold the annual brochure exchange. Event information can be found here.  
The World Picture: Travel Imagery Before and After Photography exhibit, mounted by Cornell's Rare and Manuscript Collection, highlights the history of tourism through published travel imagery. Learn more about the exhibit here.  
Ontario County will be releasing an infographic, 1984 vs. 2019: The Finger Lakes Then & Now. The diagram will show how Ontario County has grown over the past 35 years, in large part to its visitors. 
"Travel matters is not just a catchphrase." explained Lisa Burns, Executive Director of the Finger Lakes Regional Tourism Council. "It's a concept that not only supports the economic vitality of a community, it also holds health benefits for individuals and families who can recharge and reconnect while relaxing on vacation. We encourage everyone to reward themselves with travel." 
###
The Finger Lakes Regional Tourism Council
The breathtaking Finger Lakes takes its name from eleven lakes spanning the region like a giant handprint, stretching from its easternmost point in Onondaga County to its westernmost border in Livingston County, near Letchworth State Park. Boasting a mix of nature trails and natural beauty, wineries and breweries scattered across the region, and quaint villages close to large metropolitan areas, the Finger Lakes Vacation Region has a plethora of tourist attractions within its borders.
In January 2014, the 14 Official County Tourism Promotion Agencies of the Finger Lakes Vacation Region formed a 501(c)(3) organization known as the Finger Lakes Regional Tourism Council (FLRTC). The FLRTC Board includes representation from all 14 TPAs and counties: Cayuga, Chemung, Cortland, Livingston, Monroe, Onondaga, Ontario, Schuyler, Seneca, Steuben, Tioga, Tompkins, Wayne and Yates. For information about attractions and events throughout the Finger Lakes region, visit www.fingerlakestravelny.com or call 1-888-408-1693.  
Photo: Watkins Glen State Park Cavern Cascade - Stu Gallagher
Media Contact:
Lisa Burns
Executive Director, FLRTC
O: 585-484-8844
C: 585-410-1528