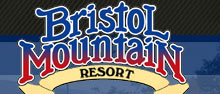 Canandaigua, N.Y.
- Bristol Mountain will be hosting the Toyota Freestyle Fest Jan. 16-18 . The event will be a USSA sanctioned Mogul and Dual Mogul competition and will be held on Lower Galaxy. The top freestyle athletes from the Eastern US will be competing in the "A" events (athletes ages 13 through 20) in moguls on Saturday and Sunday and in Dual Moguls on Monday. Points earned at this event will be posted on the USSA national points list and help these athletes earn invitations to Junior Olympics, Nationals and the NorAm tour. This will be the only A event held in NY State this Winter and the winner of this event both of the last two seasons has gone on to earn a spot on the US Freestyle Team. The B events (athletes ages 7 through 15) will also be mogul events on Saturday and Sunday. At this level athletes are competing to earn spots at the season ending regional and divisional B championship events and many will have the goal of moving up to ski at the A level next season. These are very exciting events to watch and we expect roughly 175 athletes to compete making this one of the largest freestyle meets held in North America. A schedule of event times will be posted the week before the event takes place. Hint - the BEST time to watch is during training times as you will be able to see the entire field of athletes perform their runs in a very short amount of time. Come on over and cheer on all of the Bristol Athletes as they have been training hard this Winter and during the off season as well! For more information on the Bristol Freestyle team contact Johnny Kroetz at
kroetzj@welchallyn.com
or Drew Broderick at
dbroderick@bristolmt.com
(585)-455-4186.
###
Contact
: Drew D. Broderick (585) 374-1125; cell (585) 455-4186
dbroderick@bristolmt.com