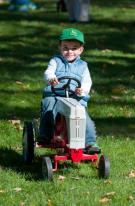 Cooperstown, N.Y.
-
The Farmers' Museum in Cooperstown will present its second annual Tractor Fest on Saturday and Sunday, October 8 and 9, from 10:00 a.m. - 5:00 p.m.
Tractor Fest offers visitors an opportunity to see classic tractors representing the growth of farming technology from the 1920s until today.  The Museum provides an ideal setting where visitors can learn about the world of tractors and how they powered America's farms.   Discover classic tractors from Ford, Case, Oliver, and John Deere, as well as modern tractors across the Museum grounds.  New tractor demonstrations will take place throughout both days.  (New tractors furnished by Cazenovia Equipment and Springer's Inc.) Families will find Tractor Fest to be a great weekend destination.  Kids, ages 7 and under, can compete for prizes in a Kiddie Pedal-Tractor Pull contest onboth Saturday and Sunday at 2:00 p.m. There will be wagon rides around the Historic Village, pulled by a Ford Golden Jubilee Tractor, on Saturday and Sunday morning from 10:00 a.m. - 12:00 noon. Antique farm toys and literature will be on display courtesy of Farm Toys of Yesterday.  See the winners of the 2011
A New York State of Mind Quilt Show
.  There will also be thrashing and baling demonstrations, The Empire State Carousel, craft demonstrations, and more.   Join us on Saturday evening for a special chicken barbecue dinner with live music to benefit victims of the recent flooding in the region.  From 5:00 - 8:00 p.m. (Saturday, Oct. 8), enjoy a tasty chicken barbecue furnished by Andre's Blue Ribbon BBQ and live country and bluegrass music featuring Phil Zenir and The Fieldstone Pickers.  The Leo Club of Cooperstown will also do their part by selling delicious baked goods with proceeds supporting flood victims.  $15 advance sale tickets for the dinner are available online at FarmersMuseum.org/tractorfest or by calling (607) 547-1423.  Tickets will be $18 at the door.  (Seating is limited.)  Enjoy a great evening of food and music while supporting a worthy cause at The Farmers' Museum!   Tractor Fest is free with your paid museum admission.  (Cost for the benefit chicken barbecue is additional.)  Museum admission: $12 adults (13+), $10.50 seniors (65+), $6 children (7-12), children 6 and under and members of the New York State Historical Association are free.  Food and beverages will be available throughout the day.  Please visit our website at FarmersMuseum.org/tractorfest for more information and a full schedule of events.
###
Image:
A young tractor enthusiast takes part in the "Kiddie Pedal-Tractor Pull" at last year's Tractor Fest at The Farmers' Museum in Cooperstown, NY.
About The Farmers' Museum
As one of the oldest rural life museums in the country, The Farmers' Museum in Cooperstown, New York, provides visitors with a unique opportunity to experience 19th-century rural and village life first-hand through authentic demonstrations and interpretative exhibits. The museum, founded in 1943, comprises a Colonial Revival stone barn listed on the National Register for Historic Places, a recreated historic village circa 1845, a late- nineteenth-century Country Fair featuring The Empire State Carousel, and a working farmstead. Through its 19th-century village and farm, the museum preserves important examples of upstate New York architecture, early agricultural tools and equipment, and heritage livestock. The Farmers' Museum's outstanding collection of more than 23,000 items encompasses significant historic objects ranging from butter molds to carriages, and hand planes toplows. The museum also presents a broad range of interactive educational programs for school groups, families, and adults that explore and preserve the rich agricultural history of the region.
For more information or images, please contact:
Todd Kenyon, Public Relations New York State Historical Association Fenimore Art Museum/The Farmers' Museum Phone: (607) 547-1472 / E-mail:
t.kenyon@nysha.org