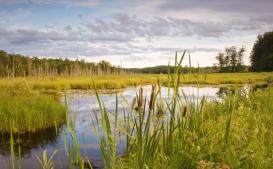 Over 600 Photos Submitted for 2nd Annual Tug Hill Calendar Photo Contest
Watertown, N.Y.
- With over 600 photos submitted, the Tug Hill Tomorrow Land Trust Calendar Photo Contest has once again, exceeded expectations. In order to create the only Tug Hill Calendar, involve Tug Hill communities throughout the region, and execute a successful fundraiser, Tug Hill Tomorrow Land Trust held the 2nd Annual Tug Hill Photo Contest. The winning photo is featured as the cover of the 2010 Tug Hill Calendar, and 12 other incredible photos are featured as months within the calendar.  Several other stunning photos are included as thumbnails along the bottom and top border of each page, as the goal was to include as many photos as possible.   Calendars are available to purchase for $15/each throughout the region; including The NYS Zoo at Thompson Park, Watertown; The Lewis County Chamber of Commerce, Lowville; Carpenter's Hardware, Camden; Adirondack Art & Picture Framing, Barneveld; and The Photo Shoppe, Rome.  Calendars are also available to purchase directly from Tug Hill Tomorrow Land Trust; contact Janelle Castro at 315.779.2239 or email
tughilloutreach@nnymail.com
.  The winning cover photo was taken by nature photographer, Zachary Wakeman, of West Monroe, Oswego County.  The photo is Whetstone Creek Headwaters at Whetstone Gulf State Park, Lewis County. Zachary Wakeman (Zach) grew up on the southwestern edge of the Tug Hill region, and enjoys nature photography because he loves to be outdoors. He also loves the challenge of capturing a beautiful scene and being able to show others what is out there (although a photo can never duplicate actual beauty).  Zach states, "By showing others it is my hope to give people another reason to protect or respect wild places." Zach feels that growing up in the region he often took it for granted, he elaborates, "Often I went to places that have dramatic beauty like the Adirondacks, it took a while for me to realize how special the Tug Hill region was - the region's forests interwoven with so many streams and wetlands is quite unique." View more of Zach's amazing work at, www.ZacharyWakemanPhotography.com. Photographers whose photos are featured as months include: Pat Hamner, Denise Weatherly, Kate Kramer, Wayne Lamica, Zachary Wakeman, Sue Matuszczak, Loretta Lepkowski, Jerry Merrill, Bruce Phelps and Amanda Webster.   The 2011 Tug Hill Calendar was made possible by generous sponsors throughout the Tug Hill region. Gold Level Sponsors include The Community Foundation of Herkimer & Oneida Counties, Inc. Silver Level Sponsors include: Christmas & Associates, Inc., RBC Wealth Management, Robert & Carol Keller, Community Consultants, and Crossroads Inn & Cabins. Bronze level sponsors include: Chuck & Lynn Alleger, Holiday Inn Express Hotel of Watertown, International Wire Group - Bare Wire Division, Marino's Pizzeria, Inc., NYS Zoo at Thompson Park, OTIS Technology, Sunnycrest Flowers, and Tug Hill Vineyards. Tug Hill Tomorrow Land Trust is a non-profit regional organization that works with private landowners to protect and foster responsible stewardship practices of working forest, farm, recreation and wild lands in northern New York's 2,100 square-mile Tug Hill region.  The Tug Hill region covers parts of Jefferson, Lewis, Oneida and Oswego Counties.  Tug Hill Tomorrow provides conservation planning, land registry and conservation easement programs for landowners, and also works to increase the awareness, appreciation and stewardship of the Tug Hill region through publications, fieldtrips, and special events.  For more information visit our website at www.TugHillTomorrowLandTrust.org, email thtomorr@northnet.org, call 315.779.8240 or write PO BOX 6063, Watertown, NY 13601.
# # #