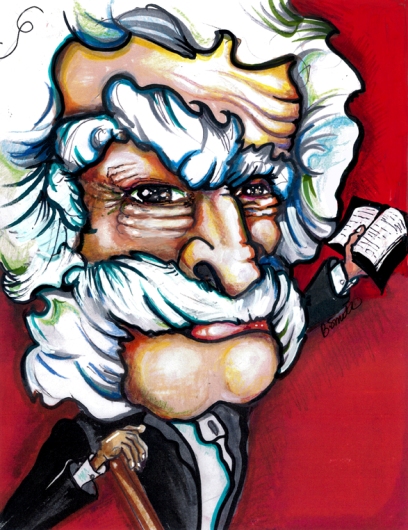 Elmira, N.Y.
- At the Elmira, New York funeral of the legendary Mark Twain 100 years ago, pouring rain provoked a sea of black umbrellas along the route from Park Church to Woodlawn Cemetery. That somber scenario will be replicated on a smaller scale this year when the Friends of Woodlawn Cemetery host a reenactment of the funeral on April 21
st
. Regardless of the weather that Saturday morning, the first seventy-five people who arrive at the cemetery entrance will be given a black umbrella to memorialize the occasion. Each umbrella will be marked with one of the 75 years Twain lived, beginning in 1835 And ending in 1910.  "It's a remarkable year of milestones," explained Cynthia Raj of the Chamber of Commerce whose members provided the umbrellas. "Besides the centennial of Mark Twain's passing, this year also marks the 175
th
anniversary of his birth and the 125
th
year since his beloved Huck Finn was created." Appropriately, the first 125 arrivals that day will also receive a complimentary copy of
The Adventures of Huckleberry Finn
, to celebrate that anniversary. During this celebration year of Twain, one thousand copies of the iconic American novel will be distributed, courtesy of the Community Foundation. For the reenactment, actors portraying members of the family, clergy and friends will board vintage automobiles, trolleys and horse-drawn carriages from historic Park Church in downtown Elmira to Woodlawn Cemetery. All members of the community are invited to participate as "mourners" and meet the funeral procession at the Walnut St. entrance to the cemetery on Woodlawn Avenue at about 10:30 a.m. Everyone will then follow the casket to the Langdon family plot for a brief graveside service along with the original eulogy.  The service will conclude with the singing of Twain's favorite hymn,
Swing Low Sweet Chariot
. For more details on this event or Twain-themed events throughout the year, visit
http://www.marktwaincountry.com/
or contact Cynthia Raj at the Chemung County Chamber of Commerce at
cynthia@chemungchamber.org
or (800) 627-5892.
###