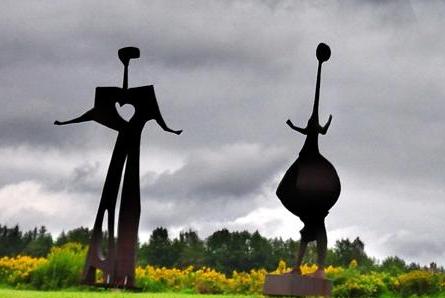 Cattaraugus County, N.Y.
- In an article written by Christine A. Smyczynski for the
Member Connection
, the magazine for AAA Members, two of the treasures of the Enchanted Mountains of Cattaraugus County have been named in the top 10 Hidden Gems in Western New York. In the Number One position is Griffis Sculpture Park, in Ashford Hollow off Route 219.  The 400 acre Ashford Hollow park, located eight miles outside of Ellicottville, is not only a tremendous regional attraction, but holds the distinction of being America's largest and oldest sculpture park. The park features over 250 large scale sculptures dispersed through miles of hiking trails. Each sculpture was placed with the natural setting in mind, creating a truly unique experience between art and nature.  Visitors are encouraged to touch and climb on the sculptures! The park is actually split into two sections: Rohr Hill Road Site and Mill Valley Road Site. The Rohr Hill area is characterized by towering sculptures set in fields and woods just off the road. The Mill Valley Road Site features both a smooth walk area, as well miles of trails through a variety of terrain. Whether you have five minutes or five hours, one can always get a flavor of the park. The Griffis Sculpture Park is open from May 1 to October 31, each year. In the Number Seven position is Rock City Park, in Olean off Route 16 South.  This park is sometimes called one of the Eighth Wonders of the World. This prehistoric ocean floor is the World's largest exposure of quartz conglomerate (also called ocean spar or puddingstone) Visitors are astounded by gigantic boulders several stories high with huge crevices sometimes referred to as "streets." From "Signal Rock," once used as a signaling point by Indians, visitors enjoy the 1,000 square mile panoramic view of the Enchanted Mountains. Rock City Park features a three quarter mile natural trail consisting of various steps and paths necessitating comfortable clothing and good walking shoes. During spring and summer you will see a variety of wildflowers, ferns, moss, Mountain Laurel (which blooms late in June) and of course enjoy the quiet serenity of the forest nestled among this geological wonder. Leaf peepers enjoy Rock City Park's spectacular fall foliage. A brand new 4,200 square foot building features an expanded museum, souvenir and rock shop, virtual video room, and florescent rock room. Guests can also utilize Rock City Park's picnic area and grills. Modern public restrooms are also available and parking is free. Visitors are furnished with a self-guided map and should allow one hour to complete the trail.
###
CONTACT
: (716) 938-2242