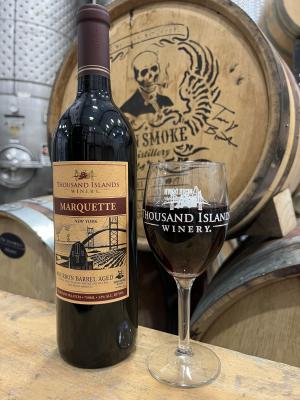 Fairport, N.Y. -- A partnership between Iron Smoke Distillery and Thousand Islands Winery has produced a limited-edition bourbon barrel-aged wine which is getting noticed by connoisseurs and recreational drinkers alike. The medium-bodied, red, dry table wine is made from premium marquette grapes and matures in bourbon-soaked barrels for six months before bottling. 
"Their barrels. Our grapes. The taste profiles really mix well," said Steve Conaway, owner of Thousand Islands Winery. "No wonder you get a perfect blend when you take two legendary institutions, both grounded in locally-sourced, New York State grown ingredients –put them together --and let Mother Nature have her way." 
Marquette Bourbon Barrel Aged wine was released to wholesale accounts for liquor stores and restaurants across New York State on August 1, 2022. The wine can be sampled at the Thousand Islands Winery's Tasting Room and Iron Smoke Distillery's Watering Room and purchase online.
A 750ml bottle retails for $19.99. It pairs exceptionally well with Angus beef and has aromas of blackberries, tobacco, plus heavily roasted molasses flavors with a subtle bourbon character.  The tannins are smooth and polished.
"Whether you are having a big celebration or just throwing a T-bone on the grill at home, sharing a bottle of this Marquette will truly add a special touch," said Iron Smoke Distillery Co-Founder Tommy Brunett.
Brunette and Conaway, the owners of the distillery and winery respectively, met on a fishing trip in 2021.  Before the weekend was over, the two men were making plans to create a bourbon barrel-aged wine and forming a partnership. 
"Even before I met Tommy, I knew that our Marquette wine would be perfect to put in a whiskey barrel for aging," explained Conaway. "Then, we started fishing and talking. It wasn't long before Iron Smoke was shipping barrels to us." 
Both the winery and distillery are certified New York State farm-based operations which support the regional economy through locally grown and locally produced products. Iron Smoke Distillery is located in Fairport, New York in the heart of the Finger Lakes region. Thousand Islands Winery is approximately 170 miles to the northeast, situated in Alexandria Bay, which is the centerpiece of the Thousand Islands. The barrels used for aging ISD spirits and TIW wine are made of Virgin American White Oak and created at the Adirondack Barrel Cooperage in Central New York.
Iron Smoke uses triple-char barrels for aging its bourbon.  The coopers "toast" the interior by hand which helps develop layers of flavor inside the barrels.  After holding two batches of bourbon, each barrel can be re-purposed to age wine.  As predicted by the TIW vintners, the residual flavors seep into the Marquette wine and create a unique taste. The first batch already sold out.
"It's going to go fast," wrote certified sommelier, Dr Laura Falk, who sampled the TIW Bourbon Barrel-Aged Marquette before the public release.  In an article for Edible Finger Lakes magazine, she elaborated by saying, "This wine was surprisingly balanced with tons of character and will continue to evolve and integrate."
Marquette grapes come from a hybrid species developed at the University of Minnesota. They were first grown in soil similar to the Thousand Islands region. After several years of cultivation, they are considered high-quality wine grapes.  At Thousand Islands Winery, the first batch of Marquette wine filled nine bourbon barrels and produced 115 cases. With an additional 50 barrels for the second batch, TIW is anticipating another 640 gallons. Plus, there are great expectations to expand further production after this fall's grape harvest.
 "The hardest part is waiting," said Conaway. "Our Marquette wine has been our little secret for too long. Now I want the world to know about it and taste the distinction." 
###
Contact:
Rebecca Leclair
Leclair Communications, LLC
585-746-6340 (c)