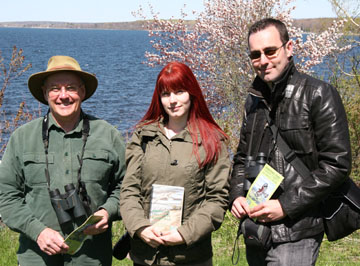 Great Lakes Seaway Trail, N.Y. – Great Britain's Wildfowl and Wetlands Trust (WWT) Photographer of the Year Naomi Roper of Sunderland, England, stopped at Derby Hill Bird Observatory overlooking Lake Ontario as part of her week-long visit to New York State. Roper's photo of an African comb duck taken at a WWT wetlands nature center won the trip sponsored by New York State's Division of Tourism, Continental Airlines, and the Great Lakes Seaway Trail National Scenic Byway.
Incoming Onondaga Audubon Society President Gene Huggins (left) welcomed Naomi and her husband Andrew Roper to Derby Hill Bird Observatory located west of Oswego, NY. Andrew and Naomi are holding the Birding the Great Lakes Seaway Trail field guide and brochure.
The Ropers are visiting natural and scenic areas and attractions including Alexandria Bay, the Great Lakes Seaway Trail Discovery Center in Sackets Harbor, Derby Hill, Oswego, Webster, the Braddock Bay Bird Observatory west of Rochester, and Niagara Falls, NY.
At the announcement of Roper's award, New York State Division of Tourism European PR Coordinator David Gale said, "Sparkling waters, nature centers, walking trails, and birds galore across four seasons make the 833.6km (518-mile) Great Lakes Seaway Trail a spectacular natural touring destination."
Learn more online at www.seawaytrail.com and www.facebook.com/SeawayTrail.
###