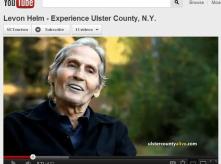 Video promotes pace of life, recreation in Ulster County
Kingston, N.Y.
 - Ulster County Executive Mike Hein has announced the release of the county's third tourism video, which will be used to promote Ulster County's pace of life and wonderful amenities. The video shows off, through the eyes and music of four-time Grammy Award winner Levon Helm, what it is like to live, work and enjoy the county's treasures. "There's an endless array of things to do when visiting Ulster County," Hein said. "One of the ways we promote Ulster County that has proven to be successful is through the exposure of our videos. People come to our UlsterCountyAlive.com Web site and are able to see and hear what it is like in Ulster County. Levon Helm did a wonderful job of explaining through his words and music what life is like here for residents and visitors alike." In the video, Helm touts Ulster's many recreational and tourism opportunities. "We have a lot of good places to visit and camp out and ski and swim and hike and bicycle ride," Helm said. "We've got all those natural areas in Ulster County. We're so close to the city. We've got mountains and we've got that small-town atmosphere." Last year, the county produced two videos, titled "Places to Stay in Ulster County, N.Y." and "Things to Do in Ulster County, N.Y." "Levon Helm - Experience Ulster County, N.Y." was filmed by a production crew that spent a day with Helm on Gill's Farm in Hurley and at Helms's property in Woodstock, where he hosts his famous Midnight Rambles (of which were included in the video). The new video can be viewed at
http://www.youtube.com/watch?v=77J6pQuxQnI&feature=youtu.be
. The first two videos can be viewed at
http://www.ulstercountyalive.com/
. "We're extremely gratified to have someone with the talents of Levon Helm to work with us and be so gracious with his time," said Ulster County Tourism Director Richard J. Remsnyder. "I'd also like to thank John Gill of Gill's Farm for allowing us to use his farm. We thought that using a celebrity like Levon Helm to tell people of the Ulster County experience was a unique way to promote Ulster County's tourist attractions. He shared his reasons for coming to the Woodstock Music Festival many years ago and why he remained in Ulster County to live here ever since. That's a powerful message." The video features Helm's music, including the song, "Poor Old Dirt Farmer," from his 2007 Grammy-winning album (Best Traditional Folk category), "Dirt Farmer." Helm's other two Grammy Awards came with his 2009 "Electric Dirt" (Best Americana Album) and 2011 "Ramble At The Ryman" (Best Americana Album), which he just won in February. Helm is also a founding member of The Band, which won a Grammy Lifetime Achievement Award in 2008.
About Ulster County Tourism
Ulster County, located less than 90 minutes from midtown Manhattan, has 250,000 of forever-wild acres encompassing 35 peaks and 350 miles of hiking trails. From biking to hiking, from kayaking to wind surfing, from hitting the sweet spot on one of our 12 golf courses to horseback riding and fly-fishing, it is truly a four-season recreation area. The county's rural vistas provide beauty for each one. Learn more at
http://www.ulstercountyalive.com/
###
Contact
: James J. Hanson 845.802.3138
jhns@co.ulster.ny.us