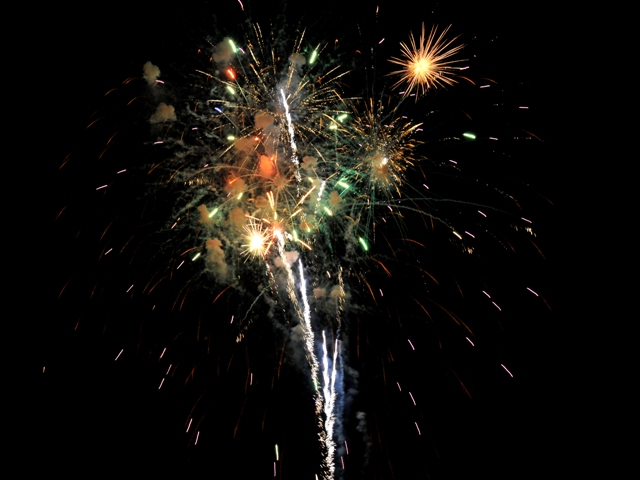 A variety of events and lodging specials across the county highlight festivities
Kingston, N.Y.  – Independence Day celebrations in Ulster County get an early start this year as the free fireworks show in Kingston kicks off a week's worth of activities, attractions and lodgings.
The popular fireworks show kicks off at dusk on June 26 at the Historic Rondout Waterfront District, at the foot of Broadway, and is sponsored by the law firm of Mainetti, Mainetti & O'Connor.
Fireworks shows are also scheduled in Highland and New Paltz on July 2 and Saugerties and Ellenville on July 4 as part of .all-day celebrations. Highland's Independence Day events are highlighted by a free music and a community picnic. New Paltz's event at the Ulster County Fairgrounds features live music from an eclectic group of bands. Parades are the focal point of July 4th festivities in Saugerties and Ellenville.
Among the luxurious resorts and hotels offering specials during the July 4th holiday are Mohonk Mountain House in New Paltz, Honor's Haven Resort and Spa in Ellenville, Pinegrove Ranch and Family Resort in Kerhonkson and Harmony House Bed and Breakfast in Saugerties. Each location offers fine dining with plenty of activities for adults and children, including golf, tennis, horseback riding, spa and massages, hiking, boating and, of course, fireworks shows.
"Ulster County is the perfect place to be on the Fourth of July," said Ulster Director of Tourism Richard J. Remsnyder. "Visitors can spend the weekend swimming in our mountain lakes and streams, exploring our unique boutiques and shops or reveling in a slice of small-town Americana at one of our numerous town-wide celebrations."
JULY 4TH INDEPENDENCE DAY CELEBRATIONS IN ULSTER COUNTY
City of Kingston: Free fireworks at the Historic Rondout Waterfront District, at the foot of Broadway. Sponsored by the law firm of Mainetti, Mainetti & O'Connor, June 26 at dusk.
Highland (Town of Lloyd): Festivities include a community picnic with food available for sale from vendors. Free music and fireworks. Bring blankets and chairs.
Set for 6 p.m. on July 2 at Highland Town Field, 71 Main St. Contact Wendy at 845-691-2144 for more information.
New Paltz: Free Independence celebration at 5 p.m. on July 2. Gates open at 5 p.m. and admission is free. Fireworks at dusk.
Music by the Holmes Brothers – Blues, Gospel, Rhythm & Blues & Country, and The Big Joe Fitz Band. Ulster County Fairgrounds, 249 Libertyville Road.
Rain date is July 3. For more information, contact: 845-255-0604 ext. 1 or www.townofnewpaltz.org.
Saugerties – Independence Day celebration on July 4th, starting at 8:30 a.m. Parade kicks off at 11 a.m. There will be a carnival, food, craft's children's activities and fireworks at dusk at Cantine Field.
For more information, contact Anthony Bell (Parade) 845-246-9701, Sandi Abelli (Fireworks, Cantine Field), or village.saugerties.ny.us (then click on calendar).
Ellenville – Independence Day Celebration from 9 a.m. to 2 p.m. on July 4.
Arts and crafts at Liberty Square; parade in village at noon. Fireworks at dusk at Resnick Airport. For more information, contact 845-647-6560 (ext. 290) or  www.townofwawarsing.net.
Belleayre: No fireworks, but opening of musical festival with k.d. Lang at 8 p.m. on July 3.
FOURTH OF JULY LODGING PACKAGES AND SPECIALS
Pinegrove Ranch and Family Resort
Dates: July 2-5
Address: 30 Cherrytown Road, Kerhonkson, N.Y. 12446
Contact information: 1-800-756-3086; info@pinegroveranch.net; www.pinegroveranch.com.
Starting at $139 per person per night you can go on a trail or corral ride, fish or paddle boat in the lake, participate in a two-hour cattle drive, enjoy sing-along camp fires at night or simply relax by the pool. Pinegrove even holds its own fireworks show on July 4th. Don't want to stay overnight but want to enjoy all the cowboy fun and fireworks? Be a day guest instead. ($39/person age 7 and up - special pricing for little ones). Pinegrove also offers all inclusive overnights starting at $139 per person.
Mohonk Mountain House
Dates: July 2-5
Address: 1000 Mountain Rest Road, New Paltz, N.Y. 12561
Contact information: 1-800-772-6646; info@mohonk.com; www.mohonk.com
The Fourth of July is all about family fun at Mohonk Mountain House. Holiday weekend packages are full of festivities including a parade, a carnival complete with games and face painting; and water sports featuring porch diving and log rolling contests. Rates start at $270 per person, per night or $873 for a family of four (two adults and two children age 4-12 years) per night. Taxes and gratuity additional. Subject to availability, three-night minimum stay required.
Harmony House Bed and Breakfast
Dates: July 1-3
Address: 1659 Route 212, Saugerties, N.Y. 12477
Contact information: 845-679-1277; harmonyhousebb@aol.com; HarmonyHouseBandB.com
Get away for a three-day weekend and save money with this three-night special including a continental breakfast. Stay two nights get 50 percent off the third night. Three-day packages from $415 to $490
Offer dependent upon availability. Must stay three nights.
Honor's Haven Resort and Spa
Dates: July 1-4
Address: 1195 Arrowhead Road, Ellenville, N.Y. 12428
Contact information: 1-877-WOW-HAVEN; 845 210-1600; wlupinski@honorshaven.com;       
www.honorshaven.com.        
Blast into summer family style this 4th of July: Two-night stays start at $120 per person per night and three-night stays begin at $105 per person per night (tax not included).
All rates include: Two meals daily (breakfast and dinner; Welcome coffee and cake; Wine and cheese service prior to dinner on Saturday night; Barbecue on Sunday afternoon; Yoga and wellness classes; Daily hotel activities; Use of spa facilities (indoor pool, wet/dry sauna and Jacuzzi) and fitness center; use of indoor and outdoor sports facilities; Boating, fishing and nature walks; night-time entertainment; complimentary shuttle service to local attractions.
OTHER SUMMER SPECIALS
Catskill Rose Lodge and Dining
Dates: June-September
Address: 5355 Route 212, Mount Tremper, N.Y. 12457
Contact information: 845 688-7100; peter@catskillrose.com; www.catskillrose.com
Stay with us, mid-week for three days and take off $50 to help with your travel expense. Prices start at $100/night mid-week and $125 weekends.
Enchanted Manor of Woodstock
Dates: Summer relaxation package – June 10-Dec. 31
Address: 23 Rowe Rd, Woodstock, N.Y. 12401
Contact information: 845-679-9012; enchantedmanor@aol.com; www.enchantedmanorinn.com
Receive a free massage with any two-night stay. Rates are $170-$335 per room per night. Enchanted Manor is located on eight private acres with heated salt water pool, pond and waterfall, outdoor hot tub. We are minutes from the downtown stores and great restaurants. All rooms are beautifully decorated with private baths with Jacuzzi tubs or steam room shower. Full healthy breakfast included.                                                              
###
Contact:
Lisa Berger
Ulster County Tourism
845-340-3567