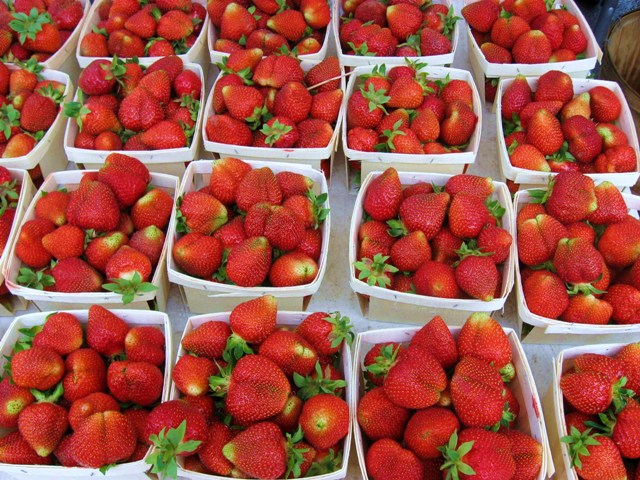 Fresh-from-the-field food highlights offerings
Kingston, N.Y.
 - Ulster County's farmers markets are getting into full swing this season as they open for business in Saugerties, Woodstock, Ellenville, Kingston, New Paltz, Highland, Plattekill and Milton throughout the month of June.  And, as farmers unveil an array of fresh fruits and vegetables, Ulster County counts down to one of its most popular summer events: The Strawberry Festival, June 19 at Klyne Esopus Museum in Ulster Park. "Farms, farmer's markets and stands are an integral part of Ulster County's landscape and economy," said County Executive Mike Hein. "From Saugerties to Milton, residents and visitors will find some of the freshest and tastiest produce in the region. Ulster County has a proud agricultural heritage dating back to its earliest settlers who realized that the rich soils of the valley were unique to the region." Today, rolling orchards, vineyards and family farms dot the landscape and comprise nearly 12 percent of the county's total acreage. Farmers markets, particularly, have enjoyed a resurgence with numerous local farms supplying fresh produce and meats to residents and visitors. The markets are a magnet for area chefs, foodies and locavores looking for fresh cheese, mushrooms, vegetables, eggs, chickens and fruits and breads of all kinds. In our small towns and cities patrons will find the actual farmers known to many fans of the New York City Greenmarkets in Union Square or Park Slope. Here, in the heart of the oldest wine grape growing region in the country, market-goers will also find award-winning locally grown wine at the markets in Kingston, Woodstock, New Paltz, Rosendale and Milton. Try different cheeses, olive oils, cookies, muffins and organic granola at the Rosendale Farmers Market. Enjoy a cooking demonstration while shopping for fresh produce at The Heart of The Hudson Valley Farmers Market in Milton. Shop for crafts on the first and third Saturday of each month at the Kingston Farmers Market. Strawberries are fresh in the fields and markets right now and a slower than usual start to the growing season doesn't seem to have hurt the crop at all. Local u-pick markets have fields bursting with fresh, ripe fruit waiting for people to pick. For those who are unsure as to what they would do with four of five pints of picked berries, some ideas follow below. For those who would rather celebrate strawberries than pick them, the 42
nd
annual Strawberry Festival has become renowned for its celebration of, of course, everything strawberry. This year's event is scheduled to begin at noon. Guests can enjoy a variety of strawberry desserts, strawberry smoothies, strawberry ice cream sundaes and fresh strawberry shortcake. And, of course, all treats are prepared with real whipped cream. There will be community entertainment and at 4 p.m. a film "Esopus 1959" will be shown about the celebration of that year with recollections of the event by museum board members. Strawberry-picking season at lush farms across Ulster County began in early June. Cherries become rip for picking at the end of the month. For more information on the Strawberry Festival, contact the Klyne Esopus Museum at 845 338-8109 or
www.klyneesopusmuseum.org
. To learn more about Ulster County's bountiful farmers markets, contact Ulster County Tourism at
www.ulstercountyalive.com
or 1-800-342-5826.
Information about Ulster County Highland Farmers Market Open: Wednesday's starting on June 22 (3-7 p.m.); Route 9W, Highland Contact: 845-691-2144; www.townoflloyd.com   Woodstock Farm Festival Open: Wednesday's starting on June 1 (3 p.m. until dusk); 6 Maple Lane, Woodstock Contact: info@woodstockfarmfestival.com; www.woodstockfarmfestival.com Town of Plattekill Farmers Market Open: Thursday's starting June 30 (3-7 p.m.); Town Hall, 1915 Rt. 44/55, Modena Contact: 845-883-7331 ext. 14; www.town.plattekill.ny.us Gardiner Community Farm Market Open: Friday's starting June 6 (3 p.m. until dusk); Gardiner Library, 133 Farmer's Turnpike, Gardiner Contact: 845-255-1255; www.gardinerlibrary.org   Kingston Farmers Market Open: Saturday's starting June 4 (9 a.m. to 2 p.m.); Wall Street between John and North Front streets, Kingston Contact: 845-853-8512; www.kingstonfarmersmarket.org   Saugerties Farmers Market Open: Saturday's starting June 4 (9 a.m. to 1 p.m.); 119 Main Street, Saugerties Contact: 845-246-9371; www.saugertiesmarket.com   Heart of the Hudson Valley Open: Saturday's starting June 18 (9 a.m. to 2 p.m.), Cluett-Schantz Park, 1801-1805 Rt. 9W, Milton Contact: 845-616-7824; www.hhvfarmersmarket.com   Rosendale Farmers Market Open: Sunday's starting June 5 (9 a.m. to 2 p.m.), Rosendale Community Center, 1055 Rt. 32 Contact: 845-339-0819; www.rosendalefarmersmarket.com   New Paltz Farmers Market Open: Sunday's starting June 19 (10 a.m. to 3 p.m.); 24 Main Street, New Paltz Contact: 845-255-6093; www.newpaltzfarmersmarket.com Ellenville Farmers Market Open: Sunday's starting June 19 (10 a.m. to 2 p.m.), Market and Center streets, Ellenville Contact: 845-647-5150; ellenvillefarmersmarket.blogspot.com Strawberry Festival Date: June 19, starting at noon Where: Klyne Esopus Museum, 764 Broadway, Ulster Park Contact: 845 338-8109; www.klyneesopusmuseum.org U-Pick Strawberries locations Saunderskill Farms, 5100 Route 209, Accord, NY  12404 845 626-2676; www.saunderskill.com Burd Farm, 6611 Route 209, Kerhonkson, NY  12446 845 626-7620 Kelder's Farm Market, 5755 Route 209, Kerhonkson, NY  12446 845 626-7137: www.kelderfarm.com Borchert Orchards, 278 Lattintown Road, Marlboro, NY  12542 845 236-7239 Dressel Farms, 271 Route 208, New Paltz, NY  12561 845 255-0693; www.dresselfarms.com Kelder's Strawberry Spinach Salad ·                     2-1/2 tablespoons balsamic vinegar ·                     pinch of salt and pepper ·                     3 tablespoons olive oil ·                     8 cups spinach (5 oz.) cleaned ·                     1-1/2 cups strawberries, cut lengthwise Whisk together vinegar, salt and pepper in a small bowl, then add oil in a slow stream, whisking well. Put spinach and strawberries in a large bowl and toss with just enough vinaigrette to lightly coat. Courtesy of Jackie Kelder, Kelder's Farm & U-Pick, Kerhonson NY     Grandma Ann's  Strawberry Rhubarb Pie For Crust  9-inch pie tin 2/3 C butter flavored Crisco 2 C flour 1/2 t salt 6 T very cold water Cut up Crisco. In food processor add flour and salt and mix.  Add crisco and pulse till mixture looks like bread crumbs.  Add all the water and pulse till just in a ball.  Wrap in plastic wrap and refigerate. For pie 1-1/4 C sugar 1/3 C flour 3 C sliced strawberries 2 C sliced rhubarb 1 T butter Slice strawberries, rhubarb and add sugar and flour then mix.  Cut dough in half.  Roll out each piece. Put bottom crust in pie tin.  Add strawberry rhubarb mixture.  Dot with butter.  Add top crust and fold under bottom crust at edges and press to seal rim.  Put some cuts in top crust.  Take 1 egg and add equal amounts of water and mix then brush top of pie crust with egg wash.  Bake at 425 for 20 minutes.  Turn down to 350 and bake for another 35 minutes. Enjoy with ice cream. Courtesy of Tammy Bolyan, Wright Farms, Gardiner NY
###
Photo courtesy of Woodstock Farm Festival
For more information, contact:
Lisa Berger Ulster County Tourism 845-340-3567
lbrg@co.ulster.ny.us