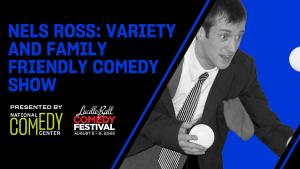 Jamestown, N.Y. - - Mark your calendars for Wednesday, August 2nd, because the National Comedy Center in Jamestown, NY is hosting a free, unforgettable night of laughter that will have everyone, from the littlest giggle monsters to the seasoned comedy connoisseurs, rolling in the aisles. 
Nels Ross: Family Comedy & Variety Show is the kickoff event to the Lucille Ball Comedy Festival, featuring over 50 live events between August 2-6, 2023. Prepare to be dazzled by a one-of-a-kind performance that blends juggling, mind-bending stunts, and hilarious comedy to keep all ages entertained. This is your golden opportunity to bring the whole gang together for an evening of pure joy and merriment.
Ross has entertained all ages for decades and is a returning friend of the Lucille Ball Comedy Festival. "My first performance at this festival was in 2014. I love performing for families. I have a background and passion for education, and I always hope to inspire and encourage youth. The main message of this variety show is that everyone is valuable - that's important to me because not everyone hears that. We should all keep our sense of humor, and everyone has a gift to share." Don't miss out on creating timeless memories that will be cherished for years to come! Tickets for the Nels Ross: Family Comedy & Variety Show are not required for this free performance, which begins at 7:00 PM at the Reg Lenna Center for the Arts in Jamestown, NY. Free parking is available downtown.
After the show, walk three blocks west to the National Comedy Center, where you'll immerse yourself in the hijinks and hilarity of everyone's favorite redhead, Lucille Ball! The Comedy Center will be screening beloved episodes of I Love Lucy on their dual 350 sq. foot outdoor jumbo screens located at 2nd and Washington Streets starting at 8:00 PM. It's the cherry on top of an already incredible evening, a perfect chance to reminisce and revel in the timeless comedic genius of Lucille Ball.
###