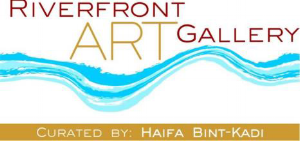 Yonkers, NY (Feb. 16, 2018) – The Riverfront Art Gallery's "Unsettled" features an all-women exhibition celebrating female voices while critically examining gender politics.  The opening reception will be Thurs., March 1 from 5:30-7:30 p.m. in conjunction with the First Thursday Gallery Hop. In recognition of Women's History Month, the show will run until March 26.
The #MeToo movement has mobilized women to publicly have their voices heard. Historically, women have been speaking out for years about sexual harassment and other abuse but had very few public avenues available to them. Unsettled explores and celebrates women's voices in a safe, public space, encouraging conversation and debate on issues that are still unsettled or just recently getting addressed. The all-female show also honors Women's History Month, which observes the contributions of women both historically and in contemporary society.
"The artwork for this show is expressive, dynamic and so beautifully and powerfully represents the woman's voice," said show Curator Haifa Bint-Kadi.
The opening reception is free and open to the public and is part of the monthly First Thursday Gallery Hop, which takes place on the first Thursday of each month, attracting hundreds of attendees to downtown Yonkers. It is produced by Haifa Bint-Kadi, the founder of the First Thursday Gallery Hop, and sponsored by the Yonkers Gallery Group, an alliance of galleries including Blue Door Art Center, Friends of Philipse Manor Hall, Urban Studio Unbound, and Yonkers Riverfront Library. If you would like more information, please contact Haifa Bint-Kadi at (914) 500-7103.
The Riverfront Art Gallery is on the fourth floor of the Yonkers Riverfront Library, located at One Larkin Center, and is accessible to people with disabilities. Parking is available at sidewalk meters and for a fee in the nearby Buena Vista and Warburton Parking Garages.
###
MEDIA CONTACT: Haifa Bint-Kadi
TELEPHONE: (914) 500-7103
EMAIL: riverfrontartgallery@gmail.com
WEBSITE:  http://www.ypl.org/artgallery