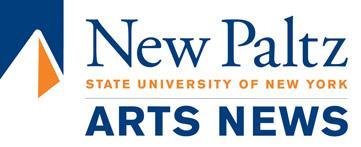 New Paltz, N.Y.
- The State University of New York at New Paltz is pleased to announce two upcoming special events presented by the Samuel Dorsky Museum of Art:
A lecture by Vivian Jacobson, a Marc Chagall scholar, on Tuesday, March 29th at 7pm at SUNY New Paltz Lecture Center 102; and
A comedic tour of the museum led by 'Fancy Meeting You Here,' on Friday, April 1st at 5pm at the Samuel Dorsky Museum of Art.
Chagall Lecture at SUNY New Paltz Lecture Center 102
On March 29th at 7pm, Vivian Jacboson will present a short illustrated talk and participate in a discussion with High Falls resident and Chagall scholar Gary Ferdman on Chagall's time in High Falls. Jacobson will discuss Chagall's little-understood three years in High Falls, with a focus on the artwork he produced during this period, the houses and studios he worked in and owned, and the people he met, including Virginia Haggard, his companion and mother of his son. Jacobson will sign copies of her book "Sharing Chagall: A Memoir", which will be on sale at the event. In 2001, Vivian Jacobson was appointed a speaker on Marc Chagall for the North Carolina Humanities Council.  She has lectured for art groups, museums, churches, synagogues, colleges and schools nationally as well as in Europe and Israel. Vivian Jacobson was honored to work closely with Chagall on major international projects during the last eleven years of his life. Marc Chagall was a prominent 20th-century Russian-born Jewish artist who achieved international prominence for his paintings, works on paper, designs for opera and theater, and many other works. Free parking is available on campus after 6:30pm.
Walking Comedy Tour of The Dorsky
On April 1st at 5pm, 'Fancy Meeting You Here,' comedy troupe led by Carl Arnheiter and Dave Hill, will take audiences on a provocative April Fool's Day tour of the Dorsky Museum's The Illustrious Mr. X exhibition, assuring visitors that "no artwork is too abstract, no modern art too modern, [and] no study of the human form [will be] overlooked." 'Fancy Meeting You Here' has always enjoyed performing in public places. When they were having trouble finding theatrical stages on which to perform, they decided to perform on a $350 million one-the Metropolitan Museum of Art. 'Fancy Meeting You Here' recently concluded an eighteen-month stint at the Metropolitan Museum of Art, having previously performed at museums in San Francisco, London, Berlin, and Amsterdam. The members of 'Fancy Meeting You Here' are comedians and writers who work for or have performed with The Colbert Report, the Onion, Saturday Night Live, the Upright Citizens Brigade Theater, The New York Times, and This American Life.
###
About SUNY New Paltz
Located in the heart of a dynamic college town, ninety minutes from metropolitan New York City, the State University of New York at New Paltz is a highly selective college of about 8,000 undergraduate and graduate students. One of the most well-regarded public colleges in the nation, New Paltz delivers an extraordinary number of majors in Business, Liberal Arts & Sciences, Engineering, Fine & Performing Arts and Education. New Paltz embraces its culture as a community where talented and independent minded people from around the world create close personal links with real scholars and artists who love to teach.