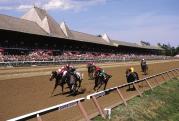 Albany, N.Y.
- The Capital-Saratoga Tourism Region, located in Upstate New York, offers visitors many fun summer events and attractions during July and August.  With music, sports events, fairs, festivals, food and plenty of other activities, this vacation region is a sure bet for summer fun. Musical and performing arts highlights in the region during July and August include:  Albany Alive At Five, held each Thursday night through August 9 in Albany; The New York City Ballet (July 10 through 21) and The Philadelphia Orchestra (August 1 through 18) performing at the Saratoga Performing Arts Center; Brews and Blues at Proctors in Schenectady on July 14; and the Opera "Magic Flute" at Hubbard Hall during July and August.  The Region also offers fun festivals, fairs and food events during July and August, including Summer Night in downtown Schenectady on July 20 and the Schaghticoke Fair (August 29 through September 3).  In addition, Canal Splash celebrates the history of the New York State Canal system with fun for the whole family August 10-12.  For food lovers, the Troy Pig Out, which showcases BBQ competitors from around the country on July 14 and 15, can't be beat.  Visitors can learn more about these events and other county fairs and local festivals at
http://www.capital-saratoga.com/
.  Sporting events also are a major part of the fun, with world-class horse racing at Saratoga Race Course from July 27 through Labor Day, polo at Saratoga Polo in Saratoga Springs from July 6 through September 2 and also at Surya Polo in Washington County from June 9 through August 4.  Also, visitors can enjoy the Tri-City ValleyCats minor league baseball team in Troy.  Visitors can also enjoy the great outdoors, including 44 lakes in Fulton County, the Champlain Canal, Hudson River, Mohawk River and thousands of acres of State and National Park lands to explore.  For more information on these activities and events or more summer vacation ideas, visit
http://www.capital-saratoga.com/
. 
About The Capital-Saratoga Tourism Region
New York's Capital-Saratoga Region is made up of Albany, Fulton, Rensselaer, Schenectady, Saratoga and Washington Counties.  With museums, wineries, performing arts venues, famous thoroughbred racing, hiking, fishing, farmers' markets, art galleries, festivals and more the Capital-Saratoga Region offers much for travelers to see and experience. 
http://www.capital-saratoga.com/
###
Contact
: Michele Vennard Albany Convention and Visitors Bureau
mvennard@albany.org