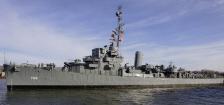 Albany, N.Y.
- USS SLATER has been ranked the Number One attraction by TripAdvisor®, among thirty-one attractions in Albany. TripAdvisor®, an online travel site, features reviews and advice on hotels, resorts, flights, vacation rentals, attractions, and much more. Rankings may change periodically based on reviews. Visit their website at
http://www.tripadvisor.com/
. Recent reviews of USS SLATER on the website include praises such as "worth seeing," "history relived," and "a floating treasure." Museum Director Tim Rizzuto noted, "Staff and volunteers are pleased to read such reviews and trust that locals are proud to have such an amazing attraction in their own backyard." USS SLATER is open to the public Wednesday through Sunday, 10 a.m. to 4 p.m., through November 25th. Admission is charged. In addition, the ship will be open Monday, November 12th, for the Veterans Day Holiday Observance. The ship will closed on Thanksgiving Day. USS SLATER is located in Downtown Albany, just south of the Dunn Memorial Bridge. For more information, visit the website at
http://www.ussslater.org/
.
###
CONTACT
: Rosehn Gipe, Marketing Coordinator, 518-431-1943