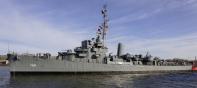 Albany, N.Y.
- The historic naval ship USS SLATER returned to Albany today to begin her 16th season as a museum and attraction in the Capital Region. Tug service to move the ship was provided by New York State Marine Highway (
http://www.nysmarinehighway.com/
). The tentative opening date for the ship, a National Historic Landmark, is Wednesday, April 3rd. USS SLATER is owned and operated by Destroyer Escort Historical Museum, a private, non-profit organization. The Museum receives no regular Federal, State, or local government financial support. USS SLATER is located on the Hudson River in Downtown Albany just south of the Dunn Memorial Bridge. Once open, public hours will be Wednesday through Sunday, 10 a.m. to 4 p.m. Admission is $8 for adults and $6 for children. Call 518-431-1943 for more information or visit the website at
http://www.ussslater.org/
.
###
CONTACT
: Rosehn Gipe, Marketing Coordinator, 518-431-1943