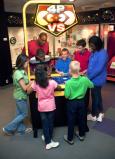 Rochester, N.Y.
- Rock the high score! Power up during
Video Game Mania
at The Strong's National Museum of Play on Saturday, November 5, and Sunday, November 6. To mark the first anniversary of the
eGameRevolution
exhibit, the museum galleries will be overloaded with video games sure to challenge and entertain guests of all ages throughout the weekend. On Saturday evening only, guests will have a rare opportunity to go behind the scenes at The Strong's
International Center for the History of Electronic Games (ICHEG)
with special talks by
Rochester Institute of Technology (RIT)
Associate Professor Steve Jacobs and tours of the ICHEG Lab. On the weekend schedule:
Saturday, November 5, from 11 a.m. to 4 p.m. and
Sunday, November 6, from noon to 4 p.m.
Tournaments: Try for your personal best score or play in a tournament on rows of PlayStations, Wiis, and Xbox 360s scattered throughout the museum, all a-buzz with the sounds of more than 75 popular games.
Inventions: Fly a giant AR.Drone and check out other electronic games invented by students and faculty from RIT's Electronic Gaming Society and its School of Interactive Games and Media.
Retro Room Lounge: Travel back in time as you play games from the 1970s and 1980s in the nifty Retro Room Lounge. 
Just for Teens: A special "T" Room has been set aside with games suitable for teens and adults.
Board Games: Try your hand at Angry Birds: Knock Wood, the board game inspired by the popular electronic games.
Saturday, November 5 ONLY beginning at 5:30 p.m.
Game Developer Talks:  Have you ever dreamed of becoming a game developer? RIT Associate Professor Steven Jacobs reveals what it takes at 5:30 and 6:30 p.m.
Guided Tours: Following each talk at 6 and 7 p.m., the CHEGheads (International Center for the History of Electronic Games staff) offer a guided tour of The Strong's ICHEG lab-home to the world's largest public collection video games, other electronic games, rare prototypes, and related materials. Space is limited and available on a first-come, first-served basis.
See what's new in the
eGameRevolution
exhibit, where guests can play through the history of video games-from pioneer Ralph Baer's first Brown Box game to today's high tech Xbox 360 games. Enter a recreated, old-fashioned video arcade featuring more than two dozen operating historic games, or visit one of several emulator stations around the gallery and challenge yourself to more than 40 classic and contemporary PC and console games. You can also play
Guitar Hero
, and
Boom Blox
on Wii or step lively on an LED Lightspace dance floor. Challenge friends to a unique four-person game of
Pac-Man Battle Royale
and grab a gigantic joystick for a rare chance to play
Giant Tetris.
eGameRevolution
is produced by The Strong's International Center for the History of Electronic Games. All Video Game Mania activities are included with general museum admission fees. =================================================================
Note to Calendar Editors:
General museum admission fees to the National Museum of Play change as of November 1, 2011.
Museum Hours: 
Monday-Thursday, 10 a.m. to 5 p.m.; Friday and Saturday, 10 a.m. to 8 p.m.; Sunday, noon to 5 p.m.
Admission Fees: 
General admission (does not include admission to
Dancing Wings Butterfly Garden
®
): Adults $13, Seniors $12, Children (2-15) $11, Children younger than two free, Museum members free.
Admission to Dancing Wings Butterfly Garden:
General admission fee plus $2 for members; $4 for nonmembers; children under 2 free. Entry is by timed ticket only. Please call 585-263-2700 to reserve and purchase tickets.
Contact
: Shane Rhinewald, 585-410-6365,
srhinewald@thestrong.org
Susan Trien, 585-410-6359,
strien@thestrong.org