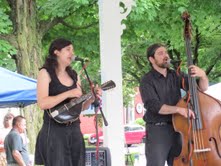 Clinton, N.Y.
  - The Village Storytelling Festival will be held on the Village Green in Clinton on June 9, 2012, offering "food for the heart and soul." This free event is open to the public and will feature storytelling for young and old by professional and amateur storytellers. The Festival includes music, food, arts and craft vendors and activities for all ages. Renowned storytellers, including Odds Bodkin (
http://www.oddsbodkin.com/
), Tracy Radosevic (
http://www.tracyrad.com/
) and Beauty and the Beast (
http://www.beautyandthebeaststorytellers.com/
), will headline. Storytellers from around central New York will also be featured, including Becky Holder, D'Lores Simmons, Joe and Jesse Bruchac and Roy Peters.  Music of The Rusty Doves and others will be featured in the Gazebo. The Village Storytelling Festival is produced by the partnership of people from Stone Church, the Village of Clinton, the Kirkland Art Center, the Clinton Chamber of Commerce, the Clinton Historical Society, the Kirkland Town Library, Lutheran Care and the Clinton Courier. Sponsors for this event are Access Federal Credit Union, NBT Bank, Wade Tours and Nice n Easy. This is an event put on by the community for the community. More information on the web at
http://www.villagestorytellingfestival.org/
.
###
Contact
: Scott Leonard 315.723.7420
srleonard@roadrunner.com