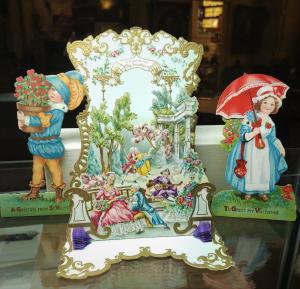 Open Now through March 5, 2023
Utica, N.Y. - Paper, lace, gilt, and watercolor. Don't miss these Victorian era and vintage valentines from the History Center collections. A large selection, including some from the Proctor family, will be on display throughout the month of February in this pop-up exhibit. What's not to love about these seasonal favorites? The collection spans the 1880s through the 1930s and contains a sampling of the "Golden Age" of valentines. 
Children of all ages are invited to visit the History Center to make old-fashioned handmade cards. Cut, paste, and decorate with provided materials. Art projects are designed for ages four and up. This is a fun way for children to get creative and use their hands to make something they will be excited to share with a friend or loved one.
The History Center is open Tue.- Sat 10:00 AM- 4:00 PM.    The special exhibit of cards will be on display through March 4.
###
ABOUT:
The Oneida County History Center is a private 501(c) (3) not-for-profit educational institution dedicated to preserving the history, heritage, and culture of the Greater Mohawk Valley for present and future generations. Admission to this program is free for the general public; donations are encouraged. Please contact the History Center at 315-735-3642 or visit the OCHC website (www.oneidacountyhistory.org) for additional information.
Contact:
Patrick Reynolds
Director of Public Programs
preynolds@oneidacountyhistory.org
Oneida County History Center
1608 Genesee Street                                                       
Utica, New York 13502-5425                                        
315-735-3642