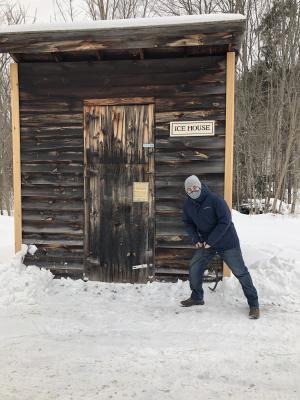 The region's "coolest" tradition will continue with free online events and at-home activities
East Meredith, NY – For more than 30 years, Hanford Mills Museum has held an Ice Harvest Festival to celebrate a historic winter tradition in the Catskills. Though COVID-19 will prevent Hanford Mills from hosting an in-person event, the Museum will offer free virtual events and at-home activities.
"We have the same goal, to highlight the history, science, and traditions of ice harvesting, but will be interacting with people online instead of here at Hanford Mills," explains Liz Callahan, executive director of Hanford Mills Museum. She notes that the Ice Harvest often brings more than 1000 people to the museum, making it their biggest event. "We will miss having visitors here for Ice Harvest, but hope people will enjoy this new online programming."
Up until the early 20th century, ice harvesting was an essential winter activity in rural communities. "Before mechanical refrigeration, ice was the only way to keep food cold," explains Callahan. "Ice blocks were cut from frozen rivers and ponds and then stored until the warmer months." She said that area farmers used the ice to keep milk and other agricultural products cold, and also as a winter crop to sell.
Winter's Coolest Crop: Ice Harvesting History and Culture
On Thursday, February 4 at 7 pm, Andrew Robichaud, Assistant Professor of History at Boston University, joins HMM staff Liz Callahan and Kajsa Harley for an online presentation, Winter's Coolest Crop: Ice Harvesting History and Culture. Robichaud's book-in-progress, tentatively titled On Ice: Transformations in American Life, is a history of climate, ice, and the ice trade in North America, and explores the cultural and economic ice age in nineteenth-century America. Along with a discussion of the history of ice harvesting in the northeast, they will discuss how Hanford Mills celebrates the historic community tradition of ice harvesting. The program is free. Register in advance at http://bit.ly/iceharvestwebinar. A recording of the program will also be posted to the Museum's YouTube Channel.

Ice Harvesting and Ice Houses Family Program
On Saturday, February 6 at 11 am, Luke Murphy, Hanford Mills education coordinator, will offer a family-friendly online presentation, Ice Harvesting and Ice Houses. He will talk about how ice houses work and experiment with different materials to determine what insulates ice the best. The program is free and you can register in advance at https://bit.ly/familyiceharvestprogram. The program will also be posted to the Museum's YouTube channel. Hanford Mills will also offer a winter scavenger hunt that families can do on their own. The scavenger hunt will be available at hanfordmills.org.  
Ask your Ice Harvest question
Hanford Mills staff will also answer questions about ice harvesting on the Hanford Mills Facebook page. Submit questions through Facebook or to kajsah@hanfordmills.org.
Hanford Mills Museum is collaborating with several nonprofits organizations to offer more online activities.
Ice Harvest Videos premiere February 6
Students from the Cooperstown Graduate Program, SUNY Oneonta have developed three short videos on the ice harvesting process, the science of ice and ice houses, and the water cycle and climate change. They will be available to watch on the Hanford Mills Museum YouTube channel starting on February 6. "The videos are a way for us to show the process of ice harvesting, and also connect to science and history," says Callahan.
Tuesday, February 2, 7 pm Birding for Bald Eagles
The Delaware-Otsego Audubon Society (DOAS) will offer a special online presentation to highlight the region's Bald Eagle population. DOAS Co-President Andy Mason and DOAS Director and Research Coordinator Tom Salo will discuss the history of eagle conservation in New York State, eagle identification, and a new self-guided driving tour and map, developed by DOAS, that will allow people to independently visit sites that are good for eagle viewing. Register for the free program at doas.us.
Friday, February 5, 7 pm Science Trivia Night with the Science Discovery Center
The A.J. Read Science Discovery Center and SUNY Oneonta Planetarium are hosting a three-round online trivia game on Zoom on February 5 from 7-9 pm. Participants can play as a team (2-5 people) or play solo. The trivia will be "ice" themed, from glaciers, to ice planets, to the history of ice and refrigeration. Register in advance at https://suny.oneonta.edu/science-discovery-center.
Wednesday, February 17, 6 pm Catskills Winter Trivia
The Catskills Visitors Center will host a virtual trivia event on its Instagram page https://instagram.com/catskills.visitor.center at 6 pm on Wednesday, February 17.  
Support Local
Callahan said they want to thank the restaurants that have provided soup for the Ice Harvest Soup Buffet and the exhibitors who come to Ice Harvest. "We encourage people to consider ordering takeout and buying from these local businesses," says Callahan. "We look forward to welcoming everyone back for the Ice Harvest Festival in 2022."
Local businesses and organizations that have been at the Ice Harvest Festival include: Byebrook Farm, Blue Merle Apiaries, Bakers Grimm, the Cooperstown Distillery, Catharina's Hats and Mittens, Kortright Handiworks, the Catskill Forest Association, My Woodlot/Watershed Agricultural Council, the Dave Brandt Chapter of Trout Unlimited, and the A.J. Read Science Discovery Center. Restaurants who provided soup, rolls and cookies for past Ice Harvests include: Alex's World Bistro, Alfresco's Italian Bistro, Applebee's, Autumn Café, Bakers Grimm, Blue Bee Café, Brooks House of BBQ, Cafe Ommegang, Cooperstown Diner, Danny's Main Street Market, Delhi Diner, Denny's, Jackie's Restaurant, Junkyard Bakehaus, Morey's Family Restaurant, Oneonta Bagel Company, the Otesaga, Simply Thai, SUNY Delhi Hospitality Department, The Tulip and the Rose Café, and TK's Diner. 
Anyone interested in finding out about the virtual Ice Harvest should follow Hanford Mills on Facebook or Instagram and go to hanfordmills.org.
###
Photo caption: Hanford Mills educator Luke Murphy will lead an online program on Ice Houses and Ice Harvests as part of the Virtual Ice Harvest Festival.
CONTACT: Liz Callahan 607/278-5744, lizc@hanfordmills.org