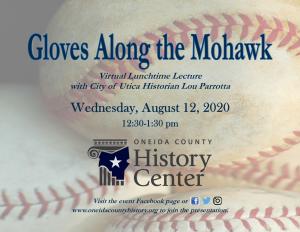 Scheduled for Wednesday, August 12, 2020 at 12:30 pm
Utica, N.Y. – The Mohawk Valley has produced professional baseball players since the late 1800s from some of the very first professionals in baseball history, to some of the greatest players ever, to those who played only a few games in Major League Baseball. Join Lou Parrotta, the City of Utica Historian, as he shares stories of the local ballplayers who made it to the Major League in this virtual lunchtime lecture. Based on book Glove Along the Mohawk (2012) by Lou Parrott and Scott Fiesthumel.
This free online presentation takes place on Wednesday, August 12, 2020 from 12:30- 1:30 pm. To view the stream or for more information, please visit the event Facebook page Gloves Along the Mohawk or visit the Oneida County History Center website. A recording of the presentation will be available on the History Center YouTube channel by August 17, 2020.
Lou Parrotta is a History Teacher at Thomas R. Proctor High School and is the president of the Oneida County Historians Association. He is a past chairman of the board of trustees for the Oneida County History Center and was appointed the City of Utica Historian by former Mayor Timothy J. Julian in 2007.  Lou also serves on the Utica Municipal Housing Authority's Board of Commissioners.  He has co-authored two books, Forest Hill Cemetery: The Stories Behind the Epitaphs and Gloves Along the Mohawk with Scott Fiesthumel, is the author of several articles on local history, and frequently speaks to local groups on Utica's long history.
The Oneida County History Center is a private 501(c) (3) not-for-profit educational institution dedicated to preserving and promoting the history, heritage, and culture of the Greater Mohawk Valley. Admission to this program is free for the general public; donations are encouraged. Please contact the History Center at 315-735-3642 or visit the OCHC website(www.oneidacountyhistory.org) or Facebook.com page for additional information.
###
Facebook Event Link: https://www.facebook.com/events/296002925149777
For Further Information, Contact Rebecca M. Mclain at (315) 735-3642 
E-mail: rmclain@oneidacountyhistory.org