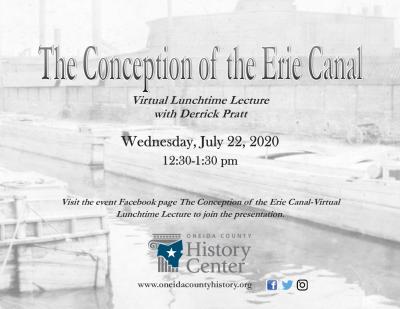 Scheduled for Wednesday, July 22, 2020 at 12:30 pm
While the Erie Canal took only 8 years to dig, getting to the point where people could start digging was a nearly 100-year long process. This virtual lecture by Erie Canal Museum Educator Derrick Pratt looks at the early efforts to harness New York's interior waterways and the political wrangling that almost kept the "Eighth Wonder of the World" from happening.
This free online presentation takes place on Wednesday, July 22, 2020 from 12:30- 1:30 pm. To view the stream or for more information, please visit the event Facebook page The Conception of the Erie Canal  or visit the Oneida County History Center website.
Derrick Pratt is the Museum Educator at the Erie Canal Museum in Syracuse, NY. A native of Chittenango, NY, Derrick received a degree in Social Studies Education from SUNY Cortland and is presently pursuing a masters in Museum Studies from Syracuse University. Prior to his job at the Erie Canal Museum, Derrick served as Director of Programs at Chittenango Landing Canal Boat Museum for 3 years.
The Oneida County History Center is a private 501(c) (3) not-for-profit educational institution dedicated to preserving and promoting the history, heritage, and culture of the Greater Mohawk Valley. Admission to this program is free for the general public; donations are encouraged. Please contact the History Center at 315-735-3642 or visit the OCHC website (www.oneidacountyhistory.org) or Facebook.com page for additional information.

###
Facebook Event Link: https://www.facebook.com/events/920097418466477
For more information:
Rebecca M. McLain
Director of Education and Outreach
Oneida County History Centrer
315-735-3642